Every day in Arizona, good people are seriously injured because of other people's carelessness, and yet the responsible parties are reluctant to step forward and do the right thing. 
At Sargon Law Group we pride ourselves on fighting for justice for Arizonans and their families. We understand that accidents happen without warning, and they can turn your entire world upside down. That's why Sargon Law Group is here to help! The extent of our clients' damages may be greater than they realize and it's our belief that you deserve to be paid for the full scale of your distress.
Sargon Law Group began with Sargon Khananisho and Michael Morgan who both chose career paths as Phoenix personal injury attorneys due to frustrations with their experiences with other members of the legal industry. They met and knew that they would make a great team and balance each other well. When these two award-winning attorneys joined forces, they promised to personally focus on every client's case and offer detailed-focused legal work that would help their clients relax and know that they are in the right hands.
"The entire team at Sargon Law Group was easy to work with and highly skilled. It was a great experience!"

— DARIEN B.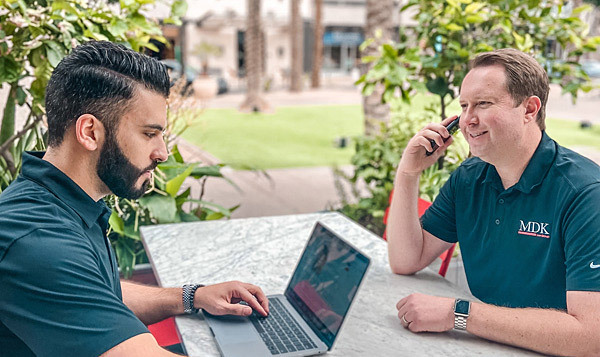 Sargon Khananisho is a partner at Sargon Law Group who focuses his practice on personal injury, trial advocacy and wrongful death claims. Sargon is a first-generation American, his parents immigrated from the Middle East after facing religious persecution. He understands the challenges families can face in our legal system firsthand. This is where Sargon's passion for helping others grew. He understood the challenges his family and others in the community faced when trying to maneuver through the system. Many people don't know their rights or what questions to ask. As a bi-lingual person who speaks both English and Assyrian, Sargon utilizes these skills to advocate for people who need help. He works to serve as many people as he can, who like his own parents, seek the safety and freedom that we enjoy as Americans. 
Partner Michael D. Morgan curated a passion for helping accident victims when his father was hit by two semi-trucks. Their family hired an attorney but the experience was terrible. This is when Michael decided to act from his own personal experience and become a highly supportive and responsive truck accident attorney in Arizona who fights on behalf of accident and injury victims. Michael encourages his clients to take control of their lives by getting the information they need to make good decisions on the path forward. He has helped positively impact countless individuals and families. Michael's clients are what drives him, and his personal family experience, in being a dedicated, caring attorney who fights for each client.
Sargon Law Group's goal is to branch out into other areas of law that will continue to serve as a voice for those that need it most. The spirit and drive that Michael and Sargon have for helping people have garnered them a multitude of awards in their industry. They recognize that being a strong personal injury attorney in Arizona requires a combination of continued learning and continued growth, while positively impacting the lives of their clients. They dedicate themselves to their craft in order to be a beacon of assistance for those without an understanding of their rights and those without a voice or expertise. 
Do You Know What To Do After An Accident?

Only 25% of people who have been in an accident hire an attorney. This is because they think it is going to be costly to get one and stressful. The Phoenix car accident attorneys at Sargon Law Group prides themselves on being easy to work with, responsive, understanding, and committed to their clients. Sargon Law Group does not charge any upfront fees meaning that there is no cost unless Sargon Law Group helps you recover. Choose Sargon Law Group to represent you, and we will make sure to get you what you deserve in compensation. We are always available 24/7 for any client's questions and always provide free consultations to those who want to learn more.
Don't try to represent yourself alone, let our experienced Arizona personal injury attorneys fight for you and help you get the compensation that you deserve. You don't pay unless we win! Call (623) 225-5635 today for a free consultation or contact us online.