Self-driving and autonomous vehicles are becoming mainstream on the roadway. But what happens when an accident occurs involving one of these vehicles and their features? At the Sargon Law Group, our team of attorneys are here to help if you need an Arizona self-driving car accident lawyer. Our Arizona personal injury lawyers have the experience necessary to handle all aspects of your personal injury claim, and our goal is to recover total compensation for your losses.
Why Turn to the Sargon Law Group for Help?
At Sargon Law Group, we respect our clients. We treat you with the dignity that you deserve, and we will always be available to answer your concerns or questions as your case is ongoing.

We have recovered significant settlements on behalf of personal injury victims throughout the state of Arizona, and we know what it takes to help our clients win in court.

We handle self-driving car accidents on a contingency fee basis, meaning clients will owe zero legal fees until after we recover the compensation they need.
How Can a Phoenix Self-Driving Car Accident Attorney Help?
A skilled Phoenix car accident attorney will understand that new technologies require new investigative techniques. Self-driving and autonomous vehicles are becoming mainstream, particularly here in Arizona, where the state has become a testing ground for these types of technologies.
An Arizona car accident lawyer will fully investigate an accident involving a self-driving or autonomous vehicle feature. This may include going through the court system to obtain records from the car company, mobile device records, and computer records related to the incident.
Importantly, an Arizona self driving car accident lawyer will make sure their client is evaluated by trusted financial and medical experts who can help calculate total expected losses. Using all of this data, an experienced self driving car accident attorney in Phoenix will vigorously negotiate with the insurance carriers and the at-fault party to recover fair compensation.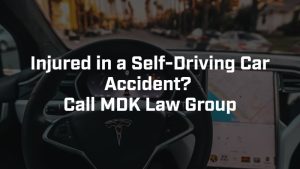 What Compensation Is Available After a Self-Driving Car Accident?
Victims of accidents involving a self-driving or autonomous vehicle may be able to recover various types of compensation for their losses. Most importantly, this includes complete compensation for any medical expenses caused by the accident. Not only does this include emergency medical bills, but also all follow-up visits, physical therapy or rehabilitation, prescription medications, medical devices, surgical procedures, and more.
Crash victims should also be able to recover compensation for their lost income if they cannot work while they recover as well as compensation for all property damage caused by the crash. 
Importantly, the Arizona car accident attorneys at Sargon Law Group understand the importance of recovering various types of non-economic losses, including coverage for our clients' physical and emotional pain and suffering as well as loss of quality of life damages.
Call an Arizona Self Driving Car Accident Lawyer Today
If you or somebody you love has sustained an injury caused by an accident involving a self-driving car in Arizona, reach out to a Phoenix personal injury attorney immediately. Our team of attorneys will conduct a complete investigation into the incident, and we know what it takes to examine the particular aspects of self-driving car accidents. Our goal is to make sure that you recover the compensation you need to make a full recovery. When you need an Arizona self-driving car accident lawyer, contact the Sargon Law Group for a free consultation or call our office at (623) 225-5635.