An accident can leave you with serious injuries, expensive medical bills and a great deal of uncertainty about the future. If you or a loved one was injured in an accident, Sargon Law Group can help. Our Avondale personal injury lawyers are committed to helping victims and their families achieve justice. We can assist you with the recovery process by connecting you to top physicians, pursuing maximum financial compensation for your losses and taking many other steps on your behalf. Start by requesting a free case evaluation by calling (623) 225-5635 or by contacting us online.
Why Choose Sargon Law Group
Our Avondale personal injury attorneys offer free, no-obligation consultations. We are available 24/7 to answer your questions and discuss a potential lawsuit. We are here for you.
Our team of attorneys have decades of experience in personal injury law and a long track record of success. Our law firm's success rate is 98 percent, with millions of dollars recovered for our clients.
You will be represented by an award-winning law firm. The attorneys at Sargon Law Group have been recognized by the Million Dollar Advocate Forum, the National Trial Lawyers Top 100 and many other organizations.
We operate on a contingency fee basis. This means you won't owe anything in attorney's fees unless we secure financial compensation for your injuries and losses.
How Will an Avondale Personal Injury Attorney Help My Claim?
You are dealing with enough as someone with serious injuries from a preventable accident in Arizona. Rather than taking on the legal process alone, you can hire an Avondale, AZ personal injury attorney for professional assistance. Having an experienced personal injury attorney in Avondale represent you during case negotiations can make the legal process easier and increase your odds of a successful outcome. It is generally accepted that accident victims with an attorney get three times (3x) more in settlements. Your personal injury lawyer in Avondale can handle complicated processes for you, such as filling out claims paperwork, while you focus on healing.
Your Avondale personal injury lawyer will also know how to go up against an insurance company in pursuit of maximum financial compensation – helping you receive the results that you need to pay for your current and future medical needs. Your lawyer can handle complicated processes for you, such as filling out claims paperwork, and take on the legal headaches, while you focus on healing.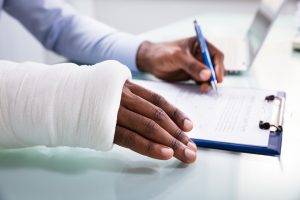 What Are The Elements of a Personal Injury Claim?
You may be eligible for financial compensation if your injuries occur due to the negligence of someone else. Being negligent means to act without using an appropriate or reasonable amount of care. An example is a motor vehicle driver running a red light and crashing into another driver. If one or more parties was negligent, careless, reckless or intentional in the act of wrongdoing that caused your injuries, you may have grounds for a personal injury case in Avondale.
Proving negligence requires evidence of four key elements:
Duty of care. A legal obligation to adhere to a standard of reasonable care. The responsibility to act toward others with the prudence and attention that a reasonable person in the same situation would use.
Breach of duty. A violation of the duty of care, meaning that the defendant failed to act in a way that aligned with his or her obligation to exercise a normal amount of care.
Causation. Proof that the defendant's failure to meet the duty of care caused or significantly contributed to the victim's injuries. In other words, the plaintiff's injury would not have happened but for the defendant's negligent act or omission.
Damages. Compensable losses suffered by the plaintiff due to the defendant's breach of the duty of care. Common examples include physical injuries, medical bills and property damage.
Negligence is the basis for most personal injury lawsuits in Arizona. However, it is not the only foundation. For example, some cases are based on strict liability. A strict liability claim does not require proof of the defendant's negligence. In a strict product liability suit, for example, an injured consumer does not need to prove that a manufacturer was negligent to be eligible for compensation for injuries from a defective product.
Types of Cases Our Attorneys Handle in Avondale, Arizona
It is important to find a personal injury attorney in Arizona that handles your specific type of case. Sargon Law Group has decades of experience handling a range of personal injury and wrongful death cases. This gives us in-depth knowledge and experience in this practice area. Our attorneys accept many different types of cases, including:
Car accident
Wrongful death
We have obtained successful settlements and jury verdicts for clients in all of these case types and more. Our skilled Avondale car accident lawyers specialize in motor vehicle accident claims and have successfully recovered compensation for clients across Arizona. If you don't see your type of case on this list, contact us to discuss your specific situation in more detail with an Avondale personal injury attorney.
What Compensation Can I Receive After A Personal Injury In Avondale?
There are many reasons to file a personal injury claim. For instance, holding a wrongdoer or negligent party accountable can give you justice and closure. A lawsuit can also result in changes on an institutional level to increase the safety of your community. One of the most important reasons to file a claim, however, is to recover the financial compensation that you and your family need to move forward.
A successful lawsuit could pay for many different losses, including:
Medical expenses
Lost wages
Lost capacity to earn
Permanent disability
Property damage
Out-of-pocket expenses
Pain and suffering
Emotional distress
Punitive damages
Our Avondale personal injury lawyers can help you recover the financial compensation that you deserve for the extent of your injuries and losses suffered. A fair recovery is important so that you can pay for your future necessary medical care, including physical therapy and rehabilitation. Sargon Law Group will evaluate your case, help you collect proof of your losses, negotiate with an insurance claims adjuster on your behalf and take your case to trial, if necessary, for optimal results. If you have lost a loved one after a fatal accident or injury, our Avondale wrongful death attorneys provide compassionate support and legal representation to fight for maximum compensation.
Contact an Avondale Personal Injury Attorney Today
If you've been injured in a recent accident in Avondale, Arizona, don't wait to contact our injury lawyers at Sargon Law Group. During a free consultation at our local law office (or your home or hospital, if you cannot travel to us), we will listen to your story and let you know how we can help. Our Avondale personal injury attorneys are here for you and your family during this difficult time.
Find out how our Phoenix personal injury attorneys can help you during a free case consultation. Call us today at (623) 225-5635 or contact us online to schedule your initial consultation.