Bicycling is a favorite activity for individuals of all ages in and around the Phoenix area. Unfortunately, severe injuries can occur in the event a bicycle accident caused by the negligence of another occurs. At Sargon Law Group, we are here to help if you need a Phoenix bicycle accident attorney by your side. Our law firm offers a free case evaluation to get started with seeking justice after an accident. We will investigate every aspect of your bicycle accident case and work diligently to seek compensation from insurance companies. If necessary, our legal team will fully prepare your personal injury claim for trial.
Why Turn to Sargon Law Group for a Bicycle Accident Claim?
At Sargon Law Group, our Phoenix bicycle accident attorneys have a passion for helping Arizonans who have sustained severe injuries because we understand the need to recover maximum compensation and be made whole.
Our team focuses on putting the client first every step of the way, and we always maintain open communication with clients until their case concludes.

If our clients cannot come to us due to their injuries after a bike accident, we will go to them. We can go to the hospital or personal homes to ensure clients are best served.

Our law firm has recovered significant settlements and jury verdicts on behalf of injury victims throughout Arizona and here in the Phoenix area.
Most Common Bicycle Accident Injuries Around Phoenix
Unfortunately, Phoenix bicycle accidents often result in significant injuries for those involved. Bicyclists have very little protection from the force of a vehicle slamming into them, and the reality is that bicyclists often sustain two impacts in a single incident. This includes one impact with a vehicle or other object and another impact with the ground. 
At Sargon Law Group, our team has an extensive track record of success helping clients who have sustained the following types of serious injuries as a result of a bicycle accident:
Broken or dislocated bones

Significant sprains or strains

Road rash or major lacerations

Crush injuries or amputations

Spinal cord injury with paralysis

Concussions

Whiplash

Scarring and disfigurement
Unfortunately, bike accident victims in the Phoenix area often sustain various types of emotional and psychological trauma as a result of their injuries and the recovery process. Our Phoenix bicycle accident lawyers want to always acknowledge the fact that unseen injuries such as physical pain and suffering, as well as emotional and psychological trauma, can significantly affect a bicyclist's life. 
What Compensation Is Available for Phoenix Bike Accident Cases?
Individuals who sustain injuries in a bicycle accident caused by a negligent driver should be able to recover various types of economic and non-economic compensation. This includes, but is not limited to, the following:
All emergency medical bills

Ongoing medical expenses for physical therapy or rehabilitation

Payment for in-home medical care if needed

Medical devices and prescription medications

Lost income if a person cannot work

Various out-of-pocket expenses

Physical pain and suffering damages

Emotional and psychological trauma damages

Loss of enjoyment of life damages
There is no set amount of compensation available to bicycle accident victims in Phoenix. However, there are several factors that will be taken into account by the parties involved that could influence total compensation amounts. This includes injury severity, how long it takes a person to recover, whether or not there were any property damage losses, the level of pain and suffering or personal experiences, and whether or not there was any shared fault. If you have lost a loved one after a fatal bicycle accident, contact our Phoenix wrongful death attorneys for expert legal support to fight for maximum compensation.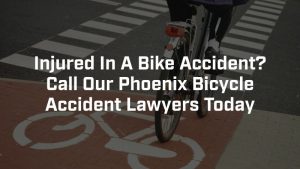 How Can a Phoenix Bicycle Accident Lawyer Help?
Bicycle accident claims can be challenging, particularly when a bicyclist has to go up against the at-fault party's insurance company or legal team. When you have a skilled Phoenix bicycle accident lawyer by your side, you will have an advocate who can fully investigate the incident, use their resources to stand up to the insurance company, and stand by your side the entire way. Your bicycle accident lawyer in Phoenix will be the one to handle all communication with other parties involved and help you seek compensation while you can focus on recovering from your injuries. Having an experienced Phoenix bicycle accident lawyer help file your claim can ensure you receive fair compensation for any medical expenses related to your bike accident injuries. 
Steps You Can Take After a Bicycle Accident Occurs 
There are various steps that Phoenix bicycle accident victims can take to help recover compensation after an accident occurs. These steps, first and foremost, revolve around ensuring the well-being of the bicycle accident victim.
Seek medical care

. Regardless of the initial injury severity, any bicyclist involved in an accident needs to go to the hospital or a doctor for an evaluation or medical treatment. Some symptoms of injury caused by bicycle accidents may not appear until hours or days after the incident occurs, so even if that bicyclist does not feel pain right away, they should still go to the doctor. Additionally, we encourage any bicycle accident victim to continue all medical treatments recommended by a doctor. Discontinuing care early could give insurance companies a reason to delay or deny the claim.

Report the incident

. Every bicycle accident that occurs in the Phoenix area should be reported to the police. Police officers can come to the scene to conduct a thorough investigation into the incident and fill out an accident report. This accident report will be needed for any insurance claim or personal injury lawsuit.

Gather evidence

. It may be possible to gather some evidence at the scene of the incident, depending on the severity of the injuries. Some of the main types of evidence that could be available includes photograph taken on a cell phone of the entire scene, the injuries, vehicle damage, and possible causes of the crash. Additionally, if there were any eyewitnesses who may have seen what happened, their names and contact information need to be written down.

Call your insurance company. You need to report the incident to your auto insurance carrier so they can begin the claims process with the at-fault driver's insurance carrier. If you do not have auto insurance, you will make your report to the at-fault driver's insurance carrier directly. Our car accident attorneys in Phoenix recommend making your initial report to any insurance carrier should be short and include basic information about the incident and the fact that you are recovering from injuries. Do not go into detail, do not admit any fault, and refer any questions to your bicycle accident lawyer.
Contact an attorney

. A bicycle accident attorney in Phoenix can get involved quickly to obtain and preserve evidence. Additionally, an attorney will handle all communication with other parties involved, including insurance carriers. 

Stay silent on social media

. We encourage all bicyclists to stay off of social media if they are involved in an accident. Anything posted on social media could be used and misconstrued by attorneys or the insurance companies to delay or even deny the bicycle accident claim.
How Much Does a Bicycle Accident Lawyer Cost in Phoenix?
A Phoenix bicycle accident lawyer will most likely take your case on a contingency fee basis. At Sargon Law Group, we believe that every person has the right to pursue compensation from at-fault parties, regardless of their current financial status. We handle all the upfront costs related to a personal injury claim or lawsuit, and we only collect legal fees after successfully recovering compensation on behalf of the client. If we do not win, clients pay absolutely nothing. If the bike accident claim is successful, the legal fees will be a specific and agreed-upon percentage of the final settlement or jury verdict.
How Soon After a Bicycle Accident Do You Need to File a Claim in Phoenix?
Bicycle accident victims in the Phoenix area should file their injury claim against the alleged negligent party as soon as possible. The Arizona statute of limitations for personal injury claims is two years from the date an injury occurs. This means a bicycle accident victim has a two-year window with which to file a lawsuit in civil court against the negligent party. Failing to do so will mean that the bicycle accident victim becomes unable to recover compensation for their losses.
There will typically be an auto insurance carrier involved in these claims, and the carrier will have its own reporting deadline. Failing to promptly report an accident to an auto insurance carrier often results in significant claim delays or even a claim denial. We encourage you to reach out to a skilled personal injury lawyer in Phoenix who can help ensure the bike accident claim gets filed properly and on time.
Phoenix Bike Accident Statistics 
According to data available from the Arizona Department of Transportation, we can see that there were a total of 1,027 bicycle accidents reported during the latest reporting year. Out of these incidents, there were 45 fatalities. Additionally, 1,005 bicyclists sustained injuries, and 135 of those injuries were considered serious.
When we dig deeper into the bicycle accident data, we can see that the vast majority of these incidents occurred in Urban areas of the state, such as Phoenix. The more crowded the space, the more likely it is that a bicyclist will sustain injuries in an accident. Additionally, most of the bike accidents that occurred across the state during the most recent reporting year of data on file happened during daylight hours and in clear weather conditions. 
Call a Phoenix Bicycle Accident Attorney at Sargon Law Group Today
At Sargon Law Group, our team of Phoenix personal injury lawyers fully understand how bicycle accidents have a complicated compensation recovery process. That is why we want to use our resources to help ensure that you are treated fairly throughout this process. Our knowledgeable personal injury team will fully investigate your incident and handle all communication with other parties involved. Let our team of bicycle accident lawyers in Phoenix make sure that you recover the compensation you are entitled to. When you need legal advice from a Phoenix bicycle accident attorney, please contact our law firm online or call us at (623) 225-5635 for a free consultation.