Traumatic brain injuries occur in a wide variety of ways, often due to the negligent actions of others. At Sargon Law Group, our dedicated team is standing by to help if you need a Phoenix brain injury attorney. We have extensive resources at our disposal, and we have years of experience handling complex injury claims throughout Arizona. Let our Phoenix personal injury lawyers get to work as soon as possible so we can recover the compensation you and your family need to get through your injury.
Why Choose Sargon Law Group For Your Brain Injury Claim?
After sustaining a catastrophic brain injury, individuals and their family members need assistance from a trusted legal team with years of experience handling Arizona personal injury claims.
At Sargon Law Group, we are a team of fierce litigators with extensive resources that we can use to stand up to at-fault parties after a brain injury occurs.

Our team has an impressive

track record of success

and standing up to at-fault parties and recovering the compensation clients deserve.

We believe in putting the client first at all times, which means brain injury victims and their families will always receive updates about their cases and be able to ask questions at any time.
Common Causes of Brain Injuries in Phoenix
Brain injuries can occur in a wide variety of ways. Often, these incidents occur due to the careless, negligent, or reckless actions of another individual, entity, or company. At Sargon Law Group, our team regularly helps individuals who have been injured due to the following:
This is certainly not a comprehensive list of the ways that brain injuries occur. If you have any questions about your particular case, we encourage you to contact a Phoenix traumatic brain injury lawyer as soon as possible. An experienced brain injury attorney in Phoenix can review your case and help point you in the right direction concerning moving forward with the claim.
Seeking Compensation for a Brain Injury Claim in Phoenix, AZ
A brain injury victim in Phoenix often suffers from extensive setbacks, both in their personal life and their financial life. Individuals harmed due to the negligence of others deserve compensation. Our brain injury lawyers in Phoenix work diligently to recover economic and non-economic damages on behalf of every client we help. 
Economic damages are also referred to as special damages, and these deal with calculable expenses that Phoenix brain injury victims are likely to endure. We use the word "calculable" because we can gather visible proof of these expenses through bills and receipts. Some of the most common economic damages associated with a brain injury claim include the following:
Emergency medical and hospital expenses

The cost of any surgical care

Prescription medications

Over-the-counter medications

Medical devices

Lost income

Loss of future earnings

Coverage of out-of-pocket expenses

Property damage expenses
Non-economic damages are sometimes referred to as general damages. These types of losses are not as easily calculable as the economic damages just explained, but they are just as important. By using various calculation methods, our attorneys will work to recover the following compensation for clients:
Physical pain and suffering damages

Emotional and psychological distress damages

Loss of quality of life damages
There is no set amount of compensation paid to brain injury victims in Phoenix. Our team of Phoenix catastrophic injury lawyers handle a range of traumatic brain injury claims and know that each claim has different aspects that will be taken into account when calculating the total value. Some factors that can affect compensation amounts include the overall severity of the brain injury and the level of any disability caused by the injury. Additionally, shared fault may be taken into account, which could lower the total compensation amount.
A skilled Phoenix brain injury attorney will work with trusted medical and economic professionals to help adequately calculate total compensation amounts. Our goal is to make sure clients recover the compensation needed to make them as "whole" as possible. At Sargon Law Group, we understand that no amount of compensation can erase the fact that the brain injury occurred, but it can help alleviate some of the pressures put on victims and their families.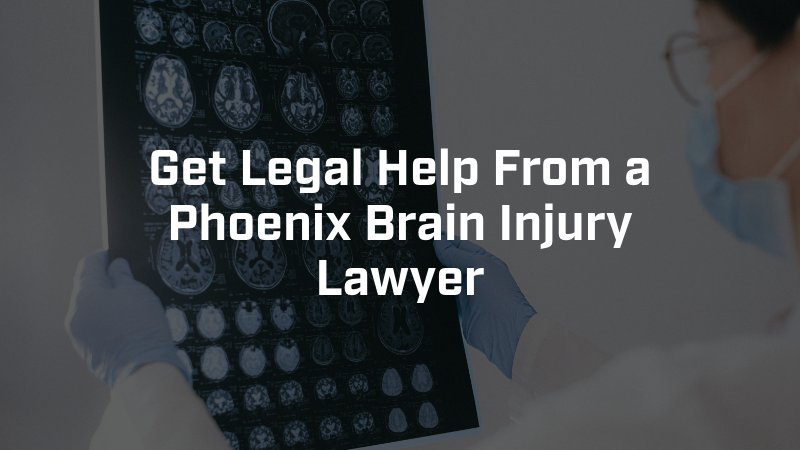 What Is The Deadline for Filing a Brain Injury Claim in Phoenix, AZ?
When we examine Arizona law, we can see that personal injury claims must be filed in civil court within two years from the date an incident occurs. This means that a brain injury victim in Phoenix has a two-year window with which to file their claim, or they will lose the ability to recover any compensation at all.
However, there are often insurance carriers involved in brain injury claims. These insurance carriers will have their own reporting deadlines that individuals need to be aware of. These deadlines are typically far shorter than the overall personal injury statute of limitations. We encourage any brain injury victim and their caretaker or family members to reach out to an attorney who can help ensure the claim gets filed on time and appropriately.
Affording a Brain Injury Lawyer in Phoenix, AZ
Paying for a Phoenix brain injury lawyer may seem cost prohibitive, but that is not the case. At Sargon Law Group, we handle Phoenix brain injury cases on a contingency fee basis. This means clients will never have to worry about paying upfront costs related to their cases. We handle all of that. Additionally, clients will only pay legal fees after we successfully recover the compensation they need. The final legal fee will be a percentage of the settlement or jury verdict. In the event we do not win the case, clients pay absolutely nothing in legal fees.
Contact Sargon Law Group For a Phoenix, AZ Brain Injury Lawyer
If you or somebody you care about has sustained a brain injury caused by the negligent actions of another individual or entity in the Phoenix area, turn to the attorneys at Sargon Law Group immediately. We know what it takes to help individuals recover compensation after these types of incidents, and we will not back down from aggressive insurance carriers or other legal teams. When you need a Phoenix brain injury attorney, you can contact us for a free consultation of your case by clicking here or calling our office at (623) 225-5635.