Accidents caused by drunk drivers are often horrific and can result in significant injuries and property damage. At Sargon Law Group, our team is here to help if you need a Phoenix drunk driving accident attorney by your side. We know what it takes to help individuals recover compensation for their losses. Let us get to work investigating your drunk driving accident claim so we can help you get back to living a normal life as soon as possible.
Turn to Sargon Law Group for a Drunk Driving Injury Case
You need to turn to a team you can trust after sustaining an injury caused by a drunk driver, and Sargon Law Group has proven time and time again that they are here for the people of Phoenix:
We handle each case with a client-focused approach, which means you will always be able to get ahold of your attorney to ask questions or concerns as your case moves forward.

We have an extensive

track record of success

helping individuals in Phoenix and throughout Arizona recover major settlements and jury verdicts after sustaining an injury.

We have no problem coming to you if your injuries prevent you from getting to our office. Let us help you make this process as easy as possible as you recover from your injuries.
How Often Do Drunk Driving Accidents Cause Injuries?
According to the Arizona Department of Transportation, there were 5,620 total alcohol-related crashes during the latest reporting year of information on file. Out of these incidents, there were 3,609 total injuries and 243 fatalities.
Unfortunately, drunk driving is one of the leading causes of injury and fatal crashes in the state of Arizona year after year. Despite strenuous efforts by law enforcement officials to clamp down on drunk driving, these types of incidents continue to occur.
Common Drunk Driving Accident Injuries in Phoenix
Drunk driving accidents often result in severe injuries. It is not uncommon for these incidents to occur at higher speeds, compounding the injury severity. Our team regularly helps clients who have sustained the following types of injuries in these incidents:
Spinal cord injury with paralysis
Concussions or more severe traumatic brain injury

Whiplash or severe upper back and neck injury

Significant lacerations or puncture wounds

Burn injuries

Severe sprains or strains

Broken or dislocated bones 

Crush injuries or amputations
In addition to these severe traumatic injuries, our team is also aware that drunk driving accident victims may experience emotional and psychological trauma as a result of the incident. Our experienced team of Phoenix car accident attorneys work diligently to ensure individuals can recover compensation for all of their losses, including compensation for their traumatic injuries as well as the unseen emotional and psychological trauma.
What Compensation Is Available For a Phoenix Drunk Driving Accident Case?
Individuals who sustain injuries caused by a drunk driver may be able to recover various types of compensation for their losses. We encourage you to reach out to a skilled drunk driving accident lawyer in Phoenix who can examine every aspect of your case. An attorney will work with trusted economic and medical experts to help adequately calculate your economic and non-economic damages.
Economic damages revolve around calculable losses drunk driving accident victims in Phoenix will likely endure. By gathering receipts, bills, invoices, and other proof of loss, our team will work diligently to recover the following on behalf of clients:
All medical bills associated with the incident

Lost wages and loss of future earnings

Property damage expenses

Household out-of-pocket and transportation costs
Non-economic damages revolve around more immeasurable losses that individuals will likely endure after a drunk driving incident occurs. For instance, there may not be receipts or bills that can be added up to put an exact dollar figure on a victim's physical pain and suffering, emotional and psychological distress, or loss of quality of life. However, non-economic damages are just as important as the economic damages mentioned above, and there are several methods an attorney will use to calculate these losses. If you have experienced a fatal drunk driving car accident and lost a loved one, reach out to a Phoenix wrongful death attorney for help holding the negligent driver liable and securing the compensation you deserve.
How Long Do You Have to File a Car Accident Claim?
When we examine Arizona law (A.R.S.§ 12-542), we can see that individuals have a limited amount of time to file their claims in court. In general, the personal injury statute of limitations in Arizona is two years from the date an injury occurs. This means drunk driving accident victims have a two-year window with which to file a lawsuit against the alleged negligent driver, or they will not be able to recover compensation at all.
As is the case with most vehicle accidents, there will almost certainly be an insurance carrier involved in the case. Insurance carriers have very strict reporting deadlines on their own, and failing to promptly report a drunk driving incident to an insurance carrier could result in a claim delay or denial.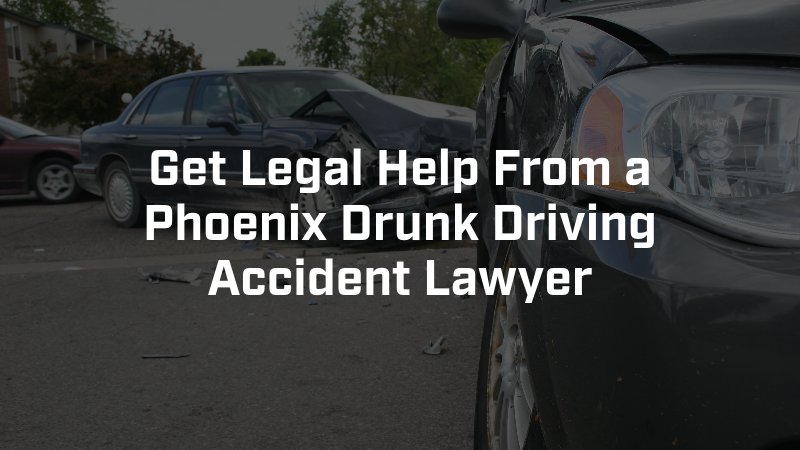 Costs To Hire a Drunk Driving Accident Lawyer in Phoenix
At Sargon Law Group, we handle drunk driving accident claims in Phoenix on a contingency fee basis. First, this means that clients will never have to worry about upfront or out-of-pocket costs as their case moves forward. Our team handles all of that, including the cost of investigating the incident. Additionally, clients will only pay legal fees after we successfully recover compensation for their losses. The total legal fees will amount to an agreed-upon percentage of the final settlement or jury verdict. If we do not win the case, clients pay absolutely nothing.
Call a Phoenix, AZ Drunk Driving Accident Lawyer Today
If you or somebody you care about has been injured due to the negligent actions of a drunk driver in the Phoenix area, reach out to the attorneys at Sargon Law Group for assistance today. Our team of skilled Phoenix personal injury lawyers will not hesitate to fully investigate every aspect of your claim, and we have no problem taking your case to trial if needed to recover compensation for your losses. Do not let another moment go by without a Phoenix drunk driving accident attorney by your side. You can contact us for a free consultation of your case by clicking here or calling our office at (623) 225-5635.