What Is Medical Malpractice?
Medical malpractice occurs when a medical provider — a doctor, surgeon, nurse, anesthesiologist, etc. — is negligent, and that negligence causes a serious injury or death. While no amount of money can ever replace what you or an injured loved one has lost, a medical malpractice case can help you afford the care you may need and compensate you for what you have lost.
The Phoenix medical malpractice attorneys at Sargon Law Group have experience investigating complex potential medical malpractice cases and holding negligent health care providers accountable for their serious errors. We handle medical malpractice cases in the Phoenix area and throughout the state. Our law firm will help you and your family through this difficult time.
Why Choose Sargon Law Group?
At Sargon Law Group, we take pride in putting clients first. This means that clients will always know the status of their case, and they will be able to get a hold of their medical malpractice attorney to ask any questions.
Our team of attorneys have the resources necessary to handle every aspect of a medical malpractice claim in Phoenix. We can fully investigate your claim and help adequately calculate your losses.

Our Phoenix medical malpractice attorneys have an extensive track record of success handling complex injury and medical malpractice lawsuits.
Why Hire A Medical Malpractice Attorney in Phoenix, Arizona?
Medical malpractice cases are expensive and difficult. Medical professionals and hospitals will fight in almost every medical malpractice case. Sargon Law Group has medical malpractice attorneys in Phoenix who use resources and experience with medical malpractice laws to ensure their clients receive the best representation and recovery available.
Sometimes a medical provider does something unreasonable, like prescribing the wrong medicine or operating on the wrong part of the body during surgery. Other times, the doctor or other health care provider fails to do something he or she should have done, such as failing to follow up on serious symptoms or failing to order the right tests.
The Phoenix medical malpractice lawyers at Sargon Law Group handle all types of medical malpractice cases, including cases involving:
Hospital malpractice or mistakes made by medical facilities or staff
Abuse or neglect in nursing homes
Missed or erroneous diagnosis
Injuries incurred by babies or mothers during birth
Errors made during surgery
Emergency room mistakes
Negligent anesthesia administration or monitoring
Malpractice resulting in wrongful death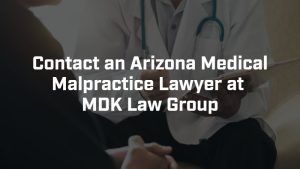 How Do You Know If a Medical Professional Is Liable For Your Injury?
Understanding whether or not a medical professional is liable for your injury or illness can be challenging. The reality is that it is crucial to reach out to a skilled medical malpractice lawyer in Phoenix as soon as possible. These cases are challenging because medical professionals and healthcare providers have deep pockets and they have extensive insurance policies. Their attorneys and insurance companies will push back against having to payout compensation. 
Determining liability is an absolute must in situations of negligent medical treatment, and that means proving that the four elements of medical negligence occurred and applied. 
Duty of care

. The first step in determining negligence is showing that the defendant (the alleged negligent healthcare provider) owed a duty of care to the plaintiff (the person who sustained the injury or illness caused by the medical error). Anytime there has been a doctor-patient relationship established between a medical professional and a patient, this essentially establishes the fact that there was a duty of care owed.

Breach of duty

. Perhaps the most difficult part of this process is showing that the medical professional breached their duty of care. In order to establish that a breach of duty occurred, we have to look at the "medical standard of care" and how this applies to a medical malpractice situation. There are hundreds of definitions of what the medical standard of care actually means, but this is usually defined as the level and type of care that a reasonably competent and skilled medical professional with a similar background and in a similar medical community as the situation at hand, would have provided under the circumstances that led to the malpractice. In other words, did the alleged negligent healthcare professional act in a way that another similarly trained doctor would, given the same situation?

Causation

. After establishing that there was a breach of duty on the part of the medical professional, it must be shown that this breach of duty caused the injuries or illness sustained by the plaintiff. A defendant and their legal team may try to say that the injury or illness was caused by something other than the breach of duty.

Damages

. Lastly, it must be shown that the plaintiff sustained some sort of monetary loss as a result of the incident. This can include medical bills, pain and suffering, lost wages, etc.
What Compensation Is Available in a Phoenix Medical Malpractice Claim?
A successful medical malpractice claim is one where the victim recovers the compensation necessary to make themselves "whole." It is important to keep in mind that being made whole may not necessarily mean that there is a full recovery. There are times when individuals sustain injuries or illnesses as a result of a medical negligence and never fully recover due to a disability, possible scarring, or disfigurement. In a fatal medical malpractice case, our team of wrongful death attorneys in Phoenix can help secure maximum compensation you deserve after losing a loved one. Our experienced Phoenix medical malpractice attorney strives to recover both economic and noneconomic damages from medical malpractice victims in the Phoenix area.
Economic damages

. For a medical malpractice claim, economic damages are going to revolve around calculable expenses the victim incurs as a result of the error in medical care. These are the types of losses that the victim and their legal team will be able to add up by gathering any medical bills or receipts that come in after the incident. The most common economic damages related to a medical malpractice claim include:

Medical expenses as a result of the mistake

Any follow-up or in-home medical care needed

Physical therapy or rehabilitation

Medical devices or prescription medications

The cost of transportation to and from medical visits

Various out-of-pocket expenses

Lost wages if a victim cannot work

Non-economic damages

. Non-economic damages related to medical malpractice claims are not as easy to calculate as the economic damages we just listed. These types of damages revolve around how they affect a victim in more "unseen" ways. This includes compensation for a medical malpractice victim's physical pain and suffering, emotional distress and psychological trauma, loss of quality of life, and a loss of consortium with a spouse.
Time Limit for Filing Medical Malpractice Claims in Arizona
Every state sets time limits for how long individuals have to file a medical malpractice claim after the initial incident occurs. Under Arizona law, the medical malpractice statute of limitations is typically two years from the date of the alleged mistake. However, Arizona does follow the "discovery rule," which means that an injury victim can file a medical malpractice lawsuit within two years from the date they knew or reasonably should have known that a medical error caused their injuries or losses.
There are various circumstances where the medical malpractice statute of limitations could be paused, which includes scenarios where the victim is under the age of 18 or considered mentally disabled. In those situations, the individuals will typically have an extended deadline, but we strongly encourage you to speak to a skilled medical malpractice lawyer in Phoenix who can help you through the process of a medical malpractice lawsuit. Keeping medical records and evidence of medical negligence can help medical malpractice lawyers file your claim as soon as possible.
Contact a Phoenix Medical Malpractice Lawyer at Sargon Law Group Today
If you wish to speak with a compassionate medical malpractice lawyer in Arizona, please contact us online or call our law office today. At Sargon Law Group, get a free case evaluation from an experienced medical malpractice attorney with no obligation to hire us after your initial consultation. Speak to our Phoenix personal injury attorneys to find out how our personal injury law firm can help you with your medical malpractice lawsuit.
Dial (623) 225-5635 or (623) 225-5635 for a free consultation today.