Suppose you or a family member suffers motorcycle accident injuries. In that case, Sargon Law Group can help you determine whether you can pursue legal compensation for medical bills, lost wages, and other expenses associated with the crash. A collision with other vehicles can result in significant property damage and devastating long-term injuries for motorcycle riders. As drivers increasingly succumb to distractions, motorcycle accidents involving negligence are more common than ever before. If you find yourself in this unfortunate situation, contact the experienced Arizona motorcycle accident lawyers at Sargon Law Group for a free consultation. We can help you recover from the financial loss as you recover from your physical injuries.
The Scope of the Problem: Arizona Motorcycle Accident Statistics
According to the most recent available data from the Arizona Department of Transportation, the state experienced 2,676 motorcycle crashes in 2019 alone. These incidents resulted in 2,235 injuries and 170 fatalities, an increase of nearly 20 deaths compared to 2018.
The National Highway and Traffic Safety Administration reported more than 5,000 nationwide motorcycle deaths in 2019. Some of the biggest contributing factors to the prevalence and severity of motorcycle accidents include:
Lack of a proper motorcycle license, a factor in approximately 30% of fatal 2019 motorcycle accidents
Failure to wear a motorcycle helmet, which can result in severe traumatic brain injury or death
Operating a motor vehicle or motorcycle while intoxicated
The small size and weight of motorcycles compared to other motor vehicles, which contributes to a lack of motorcycle visibility for other drivers
The lack of protection between the rider and the road, including the lack of airbags and seat belts
The decreased stability of two-wheeled motor vehicles compared with that of four-wheeled motor vehicles
Excessive speed, which the NHTSA says is a factor in 32% of fatal motorcycle crashes
Collision with a fixed object, which occurs in approximately 23% of fatal motorcycle crashes
Lack of experience, which may reflect the 53% of auto accident fatalities that occur in riders ages 50 and older, who may return to riding after retirement without updated safety education and training
The NHTSA compared the rate of fatalities per mile driven and found out that motorcycle riders are 27 times more likely to die in an auto accident than individuals in passenger cars. Our Phoenix car accident attorneys have seen how motorcyclists are more vulnerable when in a collision with a car. Motorcycle accidents cause 14% of all traffic deaths.
Most Common Motorcycle Accident Injuries
Motorcyclists are much more likely to sustain significant injuries when a collision occurs. Even if a motorcyclist is wearing a helmet, they still do not have the same types of protection as those inside regular vehicles. This is added to the fact that motorcyclists are likely to sustain two major impacts – one impact with the vehicle and another with the pavement. 
Some of the most common injuries that our team helps motorcycle accident victims recover compensation for include the following:
Lacerations or severe road rash

Amputation or crush injuries

Fractured or dislocated bones

Traumatic brain injuries
These injuries can lead to major disabilities as well as scarring and disfigurement. This must be taken into consideration when determining compensation. A less considered factor is the emotional and psychological trauma that motorcyclists endure in these situations. The initial injuries, the recovery process, and any disabilities will lead to pain and suffering as well as an altered quality of life. Our team of Arizona brain injury attorneys know that catastrophic injuries after a motorcycle collision such as a traumatic brain injury can result in long-term and life-altering impacts. 
Common Causes of Motorcycle Accidents in Phoenix
Motorcycle accidents can occur in a wide variety of ways in Phoenix. In most cases, the causes of these collisions can be linked back to driver negligence. This can include, but is not limited to, other drivers:
Following a motorcycle too closely

Failing to yield to a motorcyclist

Driving too fast for conditions

Operating while impaired by alcohol or drugs

Operating while distracted 

Failing to stop at stop signs or stop lights
Additionally, these incidents can be caused by poor roadway conditions, such as potholes or debris in the roadway, as well as uneven surfaces, which tend to affect motorcyclists more than those in regular vehicles. In these cases, liability could fall to a government entity or other agency responsible for roadway maintenance, such as construction companies. 
Finally, motorcycle crashes could also be caused by a faulty motorcycle or a faulty motorcycle part. Our Phoenix product liability attorneys know that defective auto parts can result in a company or manufacturer being liable for a crash. 
We strongly encourage any motorcycle crash victim to speak to an attorney about their claim to determine if they have a case against another party.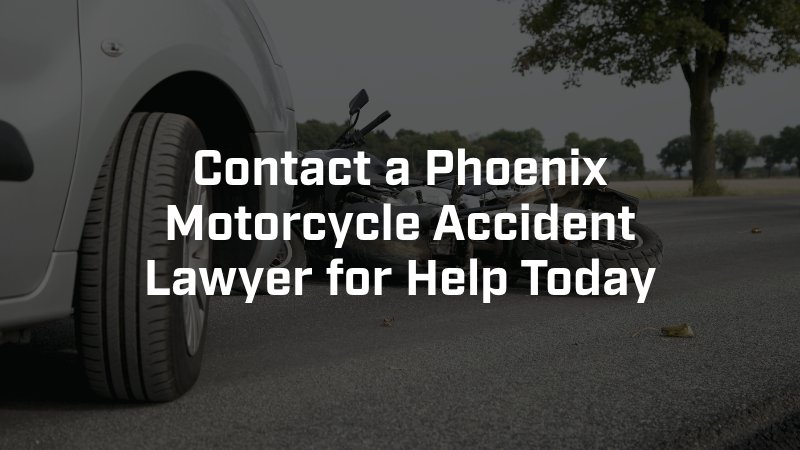 How Is Fault Determined In an Arizona Motorcycle Accident?
After a motorcycle accident, your insurance company will investigate the crash based on witness testimonies, photos, videos, and police reports. If you decide to file a Phoenix AZ accident claim in court, you must prove that the other driver's negligence caused the accident. However, that does not mean you do not have an injury case if you shared some fault in the crash.
Negligence means that the driver had a duty to act or not act in a certain way but failed to live up to that duty. In the case of a motor vehicle accident, the responsible motorist neglected his or her duty to drive safely. The driver may have been speeding or using a smartphone behind the wheel. He or she might have failed to signal or made a turn without checking the intersection.
Arizona uses a pure comparative negligence law to settle personal injury claims. With this system, the court will reduce the plaintiff's proposed damage award by his or her amount of fault. For example, if another driver ran a red light and hit your motorcycle, the judge could decide you share 20% of responsibility for the crash because your headlight was out. In this example, you would receive $80,000 instead of the proposed $100,000 in damages.
How Much Is a Phoenix Motorcycle Accident Claim Worth?
Insurance companies try to limit the possible payout as much as possible for accident victims, which is why it is so important to protect your legal interests when involved in this type of incident. A range of factors affects your personal injury settlement after a motorcycle accident, including the extent of your injuries and the lack of care displayed by the other driver. The court will review how much the motorcycle accident has affected life enjoyment, your activities, your work, your relationships, and other areas. Keeping careful records of these impacts can help you build a solid case for legal compensation.
Generally, personal injury awards for motorcyclists who pursue litigation range from several hundred thousand dollars to more than $1 million. Unlike in some states, Arizona does not limit non-monetary auto accident damages such as pain and suffering and loss of life enjoyment.
Compensation through the legal system tends to exceed available compensation through the other driver's insurance company, which is limited by his or her policy coverage. Arizona drivers only have to carry $25,000 in bodily injury liability per person and $50,000 in property damage liability per accident. In addition, the Insurance Information Institute reports that nearly 12% of Arizona motorists do not have any insurance coverage.
You can also recover the market value of your motorcycle if the bike was a total loss in the accident. To get a fair estimation, start with a reputable source such as Kelley Blue Book or NADA.
Compensation Available for Motorcycle Accident Claims in Phoenix
Any settlement or financial award for your motorcycle accident should fully account for these damages:
Both physical and emotional pain and suffering you have experienced as a result of the motorcycle accident injuries
Lost wages since you have been out of work since the motorcycle accident
Future projected lost or reduced wages if you cannot return to work permanently or will remain partially disabled by your injuries
Past and current medical expenses related to the accident, including tests, treatments, medications, surgeries, rehabilitation, and travel to medical appointments
Projected future medical expenses as estimated by your health care provider
Repair or replacement of your motorcycle and other damaged property
Legal expenses associated with the accident
Quality of life lost because of the accident (no longer being able to participate in favorite sports and activities, for example)
Keeping a journal after the accident can support your case for compensation as you provide details about exactly how your injuries have affected your health and emotional well-being.
Sometimes, the best outcome for a motorcycle accident victim is a lump sum payment so he or she can catch up on medical bills and prepare to return to work. A structured settlement that provides payments from an annuity offers ongoing income in cases involving permanent disability and chronic medical issues resulting from the accident.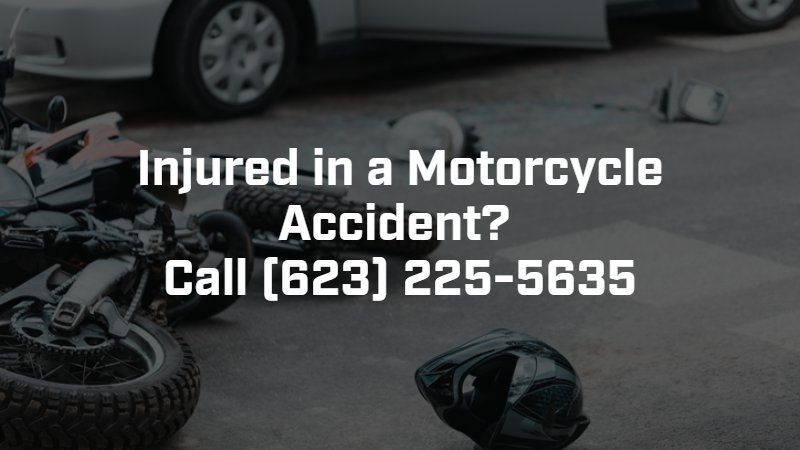 When Should You Contact a Motorcycle Accident Lawyer in Phoenix After an Accident?
It makes sense to contact a motorcycle accident attorney in Phoenix for knowledgeable legal advice even after a minor auto accident that does not result in serious injuries. You have an obligation to report the accident to your insurance company as soon as possible. You may want a Glendale motorcycle accident attorney to work with the insurance adjuster on your behalf after a serious personal injury.
If you decide to file a lawsuit after an Arizona motorcycle accident, you must bring your personal injury claim to court within two years of the accident. Working with an experienced personal injury law firm in Phoenix, AZ as soon as possible can help you build a case that covers the extent of your accident costs, from actual expenses such as medical bills to costs like pain and suffering that cannot be quantified.
How a Phoenix Motorcycle Accident Attorney Can Help
A motorcycle accident lawyer in Phoenix is going to be a crucial part of recovering compensation for your losses. An attorney can get involved early and take over every aspect of the claim. Not only does this include the investigation into the incident but also communication with all other parties involved.
Your lawyer will have the resources needed to gather any evidence needed to prove liability for the motorcycle accident case. This includes not only evidence gathered at the scene of the incident and the police report but also statements from my witnesses, additional surveillance footage that may be available, and possible traffic citations or criminal records of others involved.
Your Phoenix motorcycle accident attorney will ensure you are evaluated by medical and economic experts in order to adequately calculate your total losses. This is important because this information needs to be presented clearly to the insurance carriers or to a personal injury jury if a trial becomes necessary. If you have lost a loved one in a tragic motorcycle accident, our Phoenix wrongful death attorneys can represent your case and help you recover the compensation you deserve.
Questions To Ask When Hiring a Motorcycle Accident Attorney Arizona
When evaluating possible Phoenix motorcycle accident attorneys to assist with a personal injury claim after you are involved in an accident, ask these questions to find the right fit:
Do you specialize in helping injured motorcyclists? Some general practice attorneys may not have experience with the factors involved in seeking fair compensation for motorcycle riders.
How often do you settle cases? Going to trial can take longer, but it can also help you get the full compensation you deserve when you are seriously injured. Some attorneys avoid litigation, which is not always in your best interests.
What type of compensation have you obtained for clients after motorcycle accidents? Your injury lawyer should have a strong record of obtaining damages that cover the scope of the client's medical care and other costs.
Who will work on my case? While most attorneys have a team to assist with cases, we pride ourselves on serving as the direct contact for motorcycle accident victims in Arizona. We get to know you and the particulars of your case.
What is your fee structure? Most motorcycle accident attorneys collect a fee only if motorcycle accident cases are successful. If they take your motorcycle accident claim, you have a strong chance of financial recovery. Usually, the motorcycle crash attorney charges a percentage of the compensation in an accident case.
Get in Touch With Our Phoenix Motorcycle Accident Lawyers
At Sargon Law Group, our Phoenix personal injury lawyers have a mission to hold drivers accountable for their actions behind the wheel after motor vehicle accidents in Arizona. Unsafe driving actions that cause permanent injury or death for too many motorcycle riders. When you call us about your case, our Phoenix motorcycle crash lawyers will thoroughly investigate the circumstances of the accident and help you seek justice in court with impeccable experience, research, and strategy. To request your free consultation after a Phoenix motorcycle accident, contact us online or call (623) 225-5635 (225-5635).