When you go onto property owned by another individual, company, or entity, you expect to be safe. Property owners have a duty to ensure that their premises are free and clear from any known hazards, or if hazards are present, they should warn any person who has a right to be there. Unfortunately, injuries do happen, and victims may need help from a Phoenix premises liability attorney. At Sargon Law Group, our team of attorneys have the resources necessary to handle every aspect of your claim, and we will not rest until you have the compensation that you need.
Why Choose Sargon Law Group
Our law firm is dedicated to advocate on behalf of our clients from start to finish to obtain compensation for their injuries. Our Phoenix premises liability lawyers in Arizona have experience in representing clients through the process to hold the responsible party at fault. Call Sargon Law Group today at (623) 225-5635 or contact us online for a free consultation to discuss your legal options. We represent clients throughout the state.
When to Call a Premises Liability Attorney in Arizona
Individuals often tend to be on someone else's property on a daily basis, for example, retail stores, restaurants and bars, sporting events, gyms and grocery stores. However, people do not understand the importance of premise liability claims that may be available when you or a loved one is injured. If you have been wrongly injured due to the negligence of a property owner, contact a premises liability attorney in Phoenix, AZ to get help seeking compensation and holding the responsible party liable. Our Phoenix premises liability lawyers at Sargon Law Group work to help premise liability victims obtain appropriate compensation for claims against negligent property owners. Our team of skilled Phoenix slip and fall injury attorneys have experience handling these types of legal claims and helping injured victims seek maximum compensation.
What Compensation Is Available for a Phoenix Premises Liability Claim?
Individuals who sustain injuries caused by the negligent actions of a property owner will likely be able to recover various types of compensation if their claim is successful. At the Sargon Law Group, our team works diligently to recover both economic and non-economic compensation for every premises liability victim that we help in Phoenix.
Economic damages revolve around expenses that we are able to calculate by gathering incoming bills, receipts, invoices, etc. Often referred to as special damages, these commonly include medical expenses, lost wages, out-of-pocket expenses, and property damage expenses.
Non-economic damages, sometimes referred to as general damages, can be more difficult to calculate. After an individual sustains an injury, it is not uncommon for them to experience various types of physical pain and suffering as well as emotional and psychological trauma. This, too, must be compensated, but there are no bills in proceeds that can easily be added up. 
There is no set amount of compensation paid to premises liability victims in Arizona. Rather, insurance carriers or a personal injury jury will examine various factors to determine how much compensation should be paid. Some of these factors include the severity of the injury, whether or not there was any shared fault, the total level of pain and suffering that can be proven, property damage losses, and more. If you have lost a loved one due to a fatal injury or accident due to the negligence of a property owner, get legal support from our team of Phoenix wrongful death attorneys to fight for maximum compensation.
There are various methods used to calculate these damages, which can include a multiplier method and a per diem method. We encourage you to speak to your premises liability attorney in Phoenix for help determining how much compensation you may be able to receive.
How Does Arizona Law Determine If a Property Owner is Liable For an Injury?
In Arizona, property owners, business owners, and landlords owe a duty of care to others on their property to maintain a safe and hazard-free environment. Failure to properly do so puts individuals at risk of suffering severe, but preventable injuries. Under premise liability law, a property owner's duty of care is categorized into three areas: 1) Licensee, 2) Invitee, or 3) Trespassers.
A licensee is someone who entered the premises with the permission of the owner (the owner does not expect financial gain from the licensee). If you are found to be a licensee, a property owner must warn the licensees about any concealed dangers or hazardous conditions on the property. For example, a delivery person at a store is considered a licensee.
An invitee is someone who is on the property to potentially bring financial benefit for the business owner. For example, a person shopping at a retail store.
A trespasser is illegally on the property and owners traditionally owe no duty of care. But, a property owner may be liable if they willfully injury the trespasser or a child is injured. If a child is injured, you must prove the property owner knew of the dangerous condition that would likely harm the child, the child was likely to trespass, and the property owner failed to use reasonable care to protect the child from harm. This exception for child trespassers is in place because children do not always have the ability to appreciate the dangers of certain conditions.
If you or a loved one has been injured on another's property, the Phoenix premises liability attorneys at Sargon Law Group can help represent your interests and pursue compensation for the applicable injuries, pain and suffering, future care, and medical bills.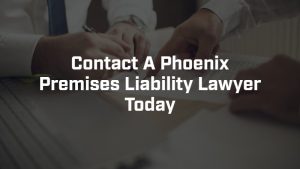 Steps to Take After a Premises Liability Accident Occurs
In the immediate aftermath of a premises liability incident, there will likely be confusion about what steps to take next. The reality is that each case is different, and the steps that we outline here may not occur in this exact order. However, working to ensure your well-being and a full settlement is the ultimate goal, and these steps can help.
Go to a doctor

. After any type of premises liability incident causes an injury, the individual harmed must seek medical treatment. This is true not only for obvious injuries but also for possible unseen injuries. The signs and symptoms of some previous liability injuries may not arise until hours or days after the incident. Seeking prompt medical care helps ensure the victim's well-being and also establishes a strong link between the incident and any potential injuries.

Report the incident

. It is important for individuals to report the injury to a property owner or manager. For commercial establishments, there is likely an accident report they will fill out, and they may even begin the insurance claims process on their end. Private residence owners should know about the incident so they can notify their insurance carrier.

Gather and preserve evidence

. It is sometimes possible to gather evidence at the scene of an incident by using a phone or some other type of recording device. This can include photographs or video surveillance of any injuries, causes of the injury, and the surrounding area. If any individuals saw what happened, it is important to get their names and contact information written down so they can give statements at a later date.

Contact an attorney

. We encourage you to reach out to a skilled premises liability lawyer in Phoenix. When an attorney gets involved quickly, they can handle every aspect of the claim, including communication with every other party involved. An attorney will also be able to obtain and preserve evidence before it can be discarded or destroyed.

Continue your medical care

. Premises liability incident victims must continue all medical treatment recommended by their doctor. Discontinuing care against medical advice could give insurance carriers or at-fault parties a reason to deny the claim.
How Long Do You Have to File a Premises Liability Claim in Phoenix?
Individuals who sustain injuries caused by the negligent actions of a property owner in the phoenix area must file their claims as soon as possible. Overall, there is a personal injury statute of limitations in Arizona of two years. This means that injury victims have a two-year window with which to file a lawsuit against the alleged negligent party. Failing to do so will result in the person becoming unable to recover compensation for their losses.
Any insurance carriers involved in the premises liability claim need to know about the incident relatively soon after it occurs. Typically, insurance carriers have deadlines that lapse within a day or two after the incident, though there are some exceptions. We encourage you to reach out to an attorney who can contact all of the parties necessary to move forward with your claim.
Can You Afford a Phoenix Premises Liability Attorney?
Yes, you absolutely can afford a premises liability attorney in Phoenix. At Sargon Law Group, our team is proud to take these cases on a contingency fee basis. This means that clients will not have to worry about paying upfront costs related to their cases. Our team handles all of that on their behalf. This includes any cost it takes to ensure a successful settlement or personal injury trial. Additionally, our clients do not pay any legal fees until after we successfully recover the compensation they are entitled to. If we do not win the case, our clients do not pay any legal fees at all.
This type of fee arrangement helps ensure that individuals, regardless of their current financial status, are able to hold property owners accountable for their negligent actions.
Contact Experienced Phoenix Premises Liability Lawyers to Represent Your Best Interest
Premise liability claims can be difficult to understand. At Sargon Law Group, our Phoenix premises liability attorneys provide legal services to you or a loved one for the injuries and damages sustained. Our Phoenix personal injury attorneys analyze your case and help determine the best course of action to maximize your compensation. At Sargon Law Group, we are Phoenix premises liability lawyers that are committed to seeking justice for you.
Call (623) 225-5635 to schedule your free consultation today.