Defective products often lead to significant injuries and property damage. When individuals are harmed due to a faulty product, they need somewhere to turn to recover compensation for their losses. At Sargon Law Group, we are standing by to help if you need a Phoenix product liability attorney. Our team has the resources necessary to investigate these complex claims and help secure compensation for your losses.
Why Choose Sargon Law Group for Your Defective Product Claim?
At Sargon Law Group, we strive to make this process as easy as possible for our clients. We handle every aspect of the claim on behalf of product liability injury victims.

Our team of Phoenix personal injury lawyers are proud to handle defective product claims in Phoenix on a contingency fee basis. This means clients never have to worry about legal fees until after we successfully recover compensation for their losses.

We have an incredible

track record of success

, having secured significant settlements and jury verdicts on behalf of clients throughout Arizona.
How Will a Phoenix Product Liability Attorney Help Your Case?
A skilled Phoenix product liability attorney is a very important part of the process of recovering compensation in these situations. Product liability claims are complicated, particularly because there will need to be an extensive investigation into the incident. This investigation will include examining the scene of the incident as well as the product, as well as expanding to look at how this product has affected others in Arizona and throughout the US.
A product liability lawyer in Phoenix will work diligently to uncover all records related to the defective product as well as how the incident has affected you. Your lawyer will handle all communication with other parties involved, including insurance carriers, product companies, and legal teams.
Finally, your Phoenix product liability lawyer will ensure that you are evaluated by medical, economic, and financial experts who can work to adequately calculate your total expected losses.
How Do Products Become Defective?
When we look at the government recall website that focuses on current recalls around the country, we can see that all types of products can become defective. Essentially, anything you use or consume on a regular basis could be defective in a variety of ways. This includes medicines, foods and beverages, cosmetics, cleaning products, vehicles, appliances, electronics, toys, and more.
Products can become defective typically in one of three ways:
Design defect

. These types of flaws refer to a product that is poorly designed to begin with, leading to it becoming defective overall. This can include flaws with how the product is used, flaws with a chemical makeup of a medication, etc.  

Manufacturing error

. Even products that have a good design could become flawed as a result of an error during the manufacturing process. Manufacturing errors typically do not affect entire lines of a product, just the lines of a product that come from a particular step in the manufacturing process.

Advertising error

. Advertising errors have to do with the way the product is marketed and explained to consumers. This can include mistakes with the labeling, such as missing ingredients, failing to disclose allergens, flawed instructions, etc.
Even if you are unsure about whether or not the product that caused you harm falls into one of these types of flaws, we encourage you to reach out to a Phoenix defective product lawyer who can examine your case and help you determine the best steps moving forward.
What Compensation Is Available for Phoenix Product Liability Victims?
Phoenix product liability victims should be able to recover a range of compensation for their injuries and property damage expenses. This includes various types of economic and non-economic damages. At Sargon Law Group, our Phoenix product liability attorneys will work diligently to recover the following on your behalf:
Coverage of any emergency medical expenses

Long-term physical therapy and rehabilitation

Medical devices or prescription medications

Property damage expenses

Lost wages if you cannot work while recovering

Physical pain and suffering damages

Emotional and psychological pain and suffering damages

Loss of enjoyment of life damages

Scarring and disfigurement damages
There is no set amount of compensation paid to defective product victims, but there are various factors that will be taken into consideration when calculating a proper amount. This includes the severity of the injuries, the level of property damage involved, how much pain and suffering damages are documented, and more. Your product liability attorney in Phoenix will work with trusted economic and medical experts to help calculate the correct amount to request from insurance carriers or the company involved.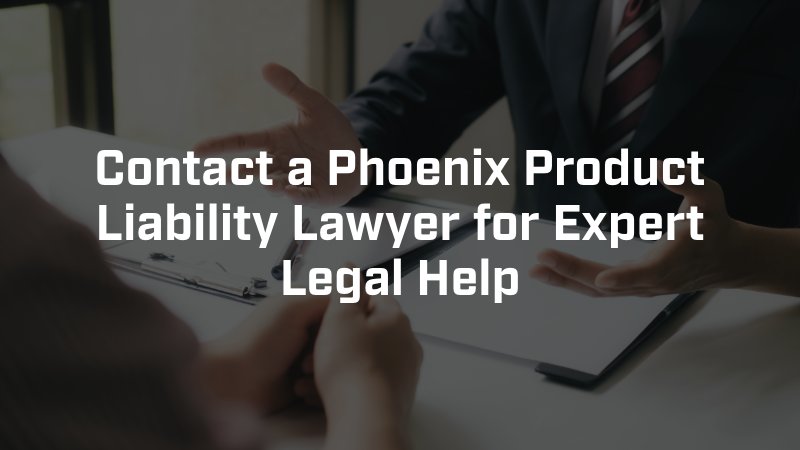 Proving Liability for Defective Product Claims in Phoenix, AZ
For most personal injury claims that result in civil lawsuits, it will be necessary to prove that the other party was negligent in some way. However, that is not the case for product liability claims. These are considered strict liability claims, which means it will not be necessary for the injury victim to prove that the company or manufacturer was necessarily negligent. All that is typically required is to show that the product was indeed defective and that the injury victim was using or consuming the product in the correctly prescribed manner.
However, that does not mean that the other party will not put up a fight when it comes to paying compensation. Even though these are strict liability claims, insurance carriers and legal teams for the at-fault company will still try to delay the claim, pay less compensation than they should, or deny the claim altogether. That is why it is crucial to work with a product liability lawyer in Phoenix who can push back against difficult at-fault parties and help their client recover the compensation they are entitled to.
Where Do You Report a Defective Product?
Understanding where to report a defective product can be confusing. First, it is absolutely critical for individuals to call 911 and report the incident to law enforcement personnel and other first responders while the initial emergency is ongoing. Local investigators will be the first ones to respond and fill out accident reports. They may actually conduct an extensive investigation into the incident, particularly for cases of severe injuries or death caused by a defective product. In some cases, this initial report will trigger investigations from other agencies.
However, you may also be able to report the defective product to other agencies. The agency to report to will depend on the type of product that is defective. One of the main agencies responsible for consumer safety is the US Consumer Product Safety Commission (CPSC). This agency has been charged by Congress to "protect the public against unreasonable risks of injuries and deaths associated with consumer products." this agency has jurisdiction over thousands of types of consumer products, ranging from toys and appliances to furniture and lawn tools.
In order to report an unsafe product, individuals can go to www.SaferProducts.gov. They can also call the CPSC toll-free hotline at (800) 638-2772.
For any food or medication product that causes an adverse reaction, individuals will need to turn to the US Food and Drug Administration (FDA). Their website contains valuable information about reporting incidents either by phone or online, though the portal to report an incident will depend on the type of product involved.
If you have been harmed due to a defective product, we encourage you to first reach out to a skilled product liability attorney. An attorney can help you report the dangerous incident to the appropriate authorities and then work to gather additional information regarding that particular harmful product. In many cases, it is not uncommon to discover that individuals throughout the country have experienced the same defective product incident, and an attorney will work to establish a pattern.
How Long do You Have to File a Product Liability Claim in Phoenix?
It is imperative for those harmed by a defective product in the Phoenix area to file their claims as soon as possible. The personal injury statute of limitations in the state of Arizona is two years from the date an injury occurs, and this applies to defective product claims that cause injuries as well. If an individual fails to file a lawsuit against the alleged negligent company, retailer, or manufacturer within this time frame, they will likely forfeit any rate to recover compensation at all.
However, just because there are two full years to file a claim after the injury occurs does not mean individuals should wait this long. We encourage you to contact a skilled product liability lawyer in Phoenix as soon as possible so the process can get started and the claim gets filed on time. 
How Much Does a Product Liability Attorney Cost?
At Sargon Law Group, we proudly handle product liability claims in Phoenix on a contingency fee basis. This means that clients harmed by a defective product will not have to worry about paying any legal fees until after we successfully recover the compensation they are entitled to. Their final legal fees will be a percentage of the settlement or jury verdict. In the event we do not win the case, clients pay nothing at all.
While the case is ongoing, we handle all up-front and out-of-pocket costs. Our team understands that a contingency fee arrangement is the best way to help ensure individuals from any income level are able to hold at-fault parties responsible when these incidents occur.
Steps To Take After a Defective Product Injury
If you have been injured by a defective product in or around the Phoenix area, there are various steps that you can take to help ensure your well-being as well as the validity of your case. These steps include, but are not limited to, the following:
Seek medical care

. Your health and well-being are of the utmost importance after a product causes harm. Depending on the severity of the initial injury, this may include calling an ambulance and going to the emergency room right away. However, even if an injury does not seem very severe at first, we strongly encourage individuals to seek medical treatment for an evaluation by a doctor. This establishes a strong link between the initial incident and any further injuries that occur as a result.

Preserve the product

. The product that caused the injury or illness should be preserved. Store the product as safely as possible. If there are hazardous materials, contact law enforcement and other first responders to ask for help with the product. In many cases, simply bagging or boxing the product and putting it away is enough to preserve the evidence. 

Obtain additional evidence

. There is often other evidence that can be gathered right after the incident occurs and in the days and weeks that follow. If possible, individuals can take photographs of the scene of the incident, the product, the injuries, and any other relevant items. There may be surveillance footage of the defective product incident that can be gathered. Additionally, we encourage any individual harmed due to a defective product to keep any clothing they were wearing at the time the incident occurred, as the clothing could hold key evidence.

Contact a product liability lawyer

. Any person harmed due to a defective product should reach out to a Phoenix product liability lawyer as soon as possible. An attorney can investigate the entire incident, look into other incidents involving the same product around the country, and handle every aspect of the case.

Continue medical treatment

. Victims of hazardous product incidents should continue all medical treatment prescribed by a healthcare professional until they have been released from care. This includes going to all follow-up visits and using any necessary medical devices.
Call a Phoenix Product Liability Attorney Today
If you or a loved one have been injured as a result of a defective product, turn to the team at Sargon Law Group for help as soon as possible. Our Phoenix product liability attorney will offer a free consultation for the claim. If we begin working on your case, we will handle every aspect of the claim. This includes investigating the incident, handling all communication with other parties, and helping you recover compensation. Reach out to us through our contact page or call us at (623) 225-5635.