Slip and fall incidents often lead to significant injuries that can give rise to massive medical bills as well as lost income if a person is unable to work. Recovering compensation if a slip and fall was caused by the actions of a negligent property owner should be the number one priority. At Sargon Law Group, we are here to help if you need a Phoenix slip and fall injury attorney by your side. Our team pledges to fully investigate every aspect of your claim and work diligently to recover maximum compensation on your behalf.
Why Choose Sargon Law Group For Help
At Sargon Law Group, we provide a client-first approach to every case that we take. Clients will always have access to their attorney to ask any questions or raise concerns while their case is ongoing.

Our team of Phoenix premises liability attorneys have tremendous experience handling complex premises liability claims throughout Arizona, and we are ready to step in and stand up to aggressive insurance carriers.

We handle slip and fall accident claims in Phoenix on a contingency fee basis, which means clients pay zero legal fees until we successfully recover compensation for their losses. 
Severe Injuries Caused By Slip and Falls
Injuries sustained by slip and fall victims often lead to significant short and long-term setbacks. Our skilled team of premises liability attorneys in Phoenix regularly help clients who sustain a wide variety of injuries in slip and fall and other types of premises liability claims. This includes, but is not limited to, the following:
Severe sprains or strains

Lacerations or puncture wounds

Fractured or dislocated bones

Traumatic brain injuries

Concussions

Whiplash

Other types of neck or back injuries
Our team also understands that slip and fall injuries can lead to various physical and emotional pain and suffering losses, particularly as a person works to recover. If the injury prevents individuals from carrying out day-to-day activities or from going to work, this can significantly add to the emotional toll of the injury. 
Our goal is to make sure every injury is accounted for so that we can recover complete compensation on behalf of the clients that we assist. This is particularly important for individuals who sustain any type of disability. Even though slip and fall incidents may not seem severe, these injuries could lead to long-term complications that also lead to continued medical and out-of-pocket costs. Our brain injury attorneys in Phoenix have experience handling a range of injury claims and understand the severity of a brain injury after a slip and fall. 
Compensation Available For Slip and Fall Claims in Phoenix
Individuals who sustain injuries due to the negligent actions of a property owner should be able to recover a wide range of compensation. This includes, but is not limited to, the following:
Complete coverage of medical bills associated with the incident

Hospital bills

Physical therapy or rehabilitation

Prescription medications

Medical devices

Out-of-pocket travel expenses

Lost wages if a victim cannot work

Property damage expenses

Any out-of-pocket expenses caused by the incident
In addition to these expenses, our skilled Phoenix personal injury attorneys will work diligently to recover compensation for a slip and fall injury victim's physical pain and suffering, emotional and psychological trauma, and loss of quality of life.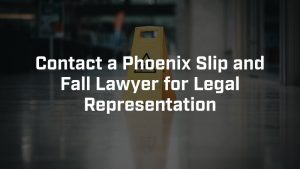 What Is the Time Limit to File a Slip and Fall Claim in Phoenix?
Any person who sustains a slip and fall injury in or around the Phoenix area should be aware that they have a limited amount of time to file these claims in court. The Arizona personal injury statute of limitations says that individuals have two years from the date an injury occurs to file a lawsuit against an alleged negligent party. If a slip and fall accident victim does not file a lawsuit against a property owner or other negligent party within two years, they will not be able to recover compensation for their losses.
There are often insurance carriers involved in these claims, whether that is the insurance carrier of a homeowner, business owner, or another party. Each insurance carrier will also have its own reporting deadlines that you need to be aware of. If you are working with a slip and fall accident lawyer in Phoenix, they will make sure to get your claim filed on time with the appropriate parties.
Paying For an Attorney After a Slip and Fall Injury
At Sargon Law Group, we handle slip and fall accident claims on a contingency fee basis. This means a few things for our clients. First, our team handles all of the costs of filing claims or a civil personal injury lawsuit. This includes investigating the incident, filing fees, court costs, etcetera clients pay no upfront or out-of-pocket costs. Additionally, slip and fall accident victims in Phoenix will pay no legal fees until after we successfully recover the compensation they need. In the event we do not win the case, clients pay absolutely nothing. The final legal fees will be an agreed-upon percentage of the settlement or jury verdict.
Additionally, we offer free consultations, so you do not have to worry about handing over any money when you seek out advice related to your claim. We encourage you to come to speak to our attorneys as soon as possible so we can get moving in the right direction on your case.
Who Is Liable In a Phoenix Slip and Fall Claim?
Determining liability after a slip and fall incident in Phoenix can be challenging. The process of recovering compensation will vary depending on where the incident occurred, but often, evidence can be gathered at the scene of the incident. This includes photographs taken of the cause of the slip and fall, any injuries sustained as a result of the incident, and the surrounding area. Additionally, if there are any eyewitnesses to the slip and fall incident, their names and contact information should be gathered so they can be contacted later on to give statements.
A Phoenix slip and fall lawyer will work diligently to uncover additional types of evidence that can help show what happened. This may include working to obtain video surveillance footage from cameras in the area. Additionally, a Phoenix slip and fall injury attorney will investigate the history of the property owner in question. This may include looking at inspection and maintenance records, any history of slip and fall incidents, and more.
Call a Phoenix Slip and Fall Injury Attorney Today
If you or somebody you love has been injured due to the negligent actions of a property owner in the Phoenix area, reach out to the team at Sargon Law Group for help immediately. We have no problem standing up to aggressive insurance carriers, and our team of slip and fall lawyers in Phoenix will gladly take your claim to trial to ensure you are treated fairly. When you need a Phoenix slip and fall injury lawyer, reach out to the attorneys at Sargon Law Group through our contact page or call us at (623) 225-5635.