The Surprise car accident lawyers at Sargon Law Group have years of experience guiding clients through these claims. If you or a loved one has injuries from a recent car crash in Surprise, we can help you understand your legal rights and pursue fair financial compensation for your injuries. We will stand by your side through every phase of your case, fighting for the best possible outcome using creative legal strategies. Request a free case consultation with one of our experienced car accident lawyers today by calling (623) 225-5635.
Why Choose Our Law Firm?
We are the law firm that other attorneys go to. Our Phoenix personal injury attorneys outperformed the competition with decades of trial experience, litigation know-how and knowledge of how insurance companies operate.
You will come first with our attorneys. You will be given a direct line of communication to the attorney working for you and with you – not an assistant or paralegal.
Our Surprise car accident attorneys accept clients on a contingency fee basis. This means that you will only pay your attorney if and when your case ends in financial compensation for your losses.
How a Car Accident Lawyer Can Help in Surprise, AZ
The legal process that comes after getting into a car accident in Arizona can be daunting. You may not fully understand all of Arizona's related laws or how they apply to your case. An attorney will have the knowledge and experience to successfully guide you and your family through the claims process. Your lawyer will take care of the legal legwork of your injury claim while you concentrate on healing.
An attorney can provide many different services during your car accident case, including:
Investigating the car accident for signs of fault.
Searching for evidence against the other party.
Speaking to eyewitnesses and collecting signed statements.
Hiring qualified experts to testify about the accident or the medical side of your injuries.
Creating a strong legal strategy.
Taking over car insurance settlement negotiations on your behalf.
Representing you at trial, if necessary.
The right Arizona car accident attorney will give you peace of mind throughout the claims process. You can rest assured knowing that your car accident lawyer will protect your best interests and pursue optimal results. At Sargon Law Group, we will do everything that we can to make sure you and your family have what you need in the confusing aftermath of a car crash. We will be there for you every step of the way.
What to Do After a Car Accident in Surprise, Arizona
Although you may be feeling overwhelmed after a car crash in Surprise, it is important to try to take certain steps, which can serve as the foundation of your injury claim later. If you can, take the following steps after your crash:
Pull over immediately. Stop your car in a safe location and check yourself and others for injuries.
Call the police. After any collision in Arizona, major or minor, involve the police so that you can receive an accident report.
Do not admit fault. Exchange information with the other driver, including insurance information, but do not admit fault for the accident.
Take photographs. Using your cell phone, take pictures and videos of the scene of the crash and all damaged vehicles.
Seek immediate medical care. Even if you feel fine, your adrenaline may be masking a serious injury.
Contact your own insurance company, as well as the other driver's, to file a claim.
Before accepting a settlement offered by the insurance company, contact a car accident attorney to make sure it reflects the true value of your case.
Once you involve a Phoenix car accident attorney, you can rest and relax while the law firm handles the rest of your case for you – including going up against an insurance company.
Common Car Accident Injuries
Every car accident contains three collisions: the vehicle collision, the human collision and the internal collision. The vehicle collision is when the car crashes into another car or fixed object, halting the vehicle's forward motion. The human collision is when something inside the cab of the vehicle stops the forward motion of the passenger. The internal collision takes place inside of the body cavity, when the forward motion of the internal organs is halted by other organs or the skeletal system. The human and internal collisions can cause many serious injuries for a car accident victim, including:
Bone fractures
Soft-tissue injuries
Whiplash and other neck injuries
Lacerations and scarring
Road rash
Amputations
Internal injuries
Burns
At Sargon Law Group, we have the ability to represent you during a case involving serious and catastrophic injuries, which are injuries that will impact you or a loved one for the foreseeable future. We also represent surviving family members in wrongful death lawsuits after fatal car accidents in Surprise, Arizona. No matter what type of injury you or a loved one suffered in a car accident, we can help.
Common Causes of Car Accidents in Surprise, Arizona
According to the Arizona Department of Transportation, there were 98,778 motor vehicle accidents reported in 2020 alone. Almost all traffic accidents that take place in Arizona are preventable. They are mostly caused by negligence. In personal injury law, someone who fails to act with an ordinary amount of care is called negligent. Examples of negligence and recklessness behind many car accidents in Surprise are:
Operating under the influence of drugs and alcohol
Driving while drowsy or fatigued
Failing to pay attention to the road
Driving while distracted by a cell phone
Speeding
Passing illegally
Making an unsafe lane change
Tailgating
Running a red light
Failing to yield the right-of-way
Breaking other traffic laws
Before you can recover financial compensation for a car accident in Arizona, you or your lawyer will need to determine who or what caused the crash. Typically, the driver who breaks a traffic law or roadway rule is responsible for the collision. However, there are cases where liability is more difficult to determine or shared among multiple parties.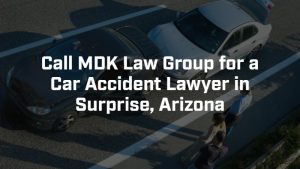 Types of Car Accidents in Surprise, Arizona
One thing that investigators will look for when determining the cause of a car accident is the type of collision. The type of accident can give clues as to how or why the crash took place. If it was a rear-end collision, for example, this could point to the rear driver's fault for following too closely or failing to pay attention. Common types of car accidents that we see as car accident attorneys at Sargon Law Group are:
Head-on collisions
T-bone accidents
Intersection collisions
Rollover accidents
Tire blowouts
Bicycle and pedestrian accidents
Single-vehicle accidents
Our Arizona personal injury law firm has many resources to help us thoroughly investigate our clients' car accidents, including crash reconstruction experts. If we determine that your car accident was caused by someone else's negligence or recklessness, we can help you pursue fair financial compensation from that party or parties.
Who Is Liable for a Car Accident in Surprise, Arizona?
Like most states, Arizona uses a tort-based insurance rule. This type of car insurance system makes the driver or party that caused the car accident financially responsible (liable) for the crash. All drivers in Arizona must carry minimum amounts of liability insurance to pay for these losses, in the following amounts:
$25,000 per person in bodily injury liability insurance
$50,000 per accident in bodily injury liability insurance
$15,000 in property damage liability insurance
Before you can receive this coverage as a victim, however, you or your lawyer must prove that the other driver is at fault. In a no-fault insurance state, on the other hand, all drivers use their own insurance companies for coverage, regardless of fault for the collision. The tradeoff is that a first-party insurance claim generally does not pay as much as a third-party claim.
Other Parties Liable In a Car Accident
It may be possible to hold someone other than the other driver liable for your crash, depending on the circumstances. In an accident involving a drunk driver, for example, you may be able to hold the alcohol vendor responsible for overserving a visibly intoxicated patron. If your car accident injuries were caused by a defective car part, such as a tire blowout or faulty seat belt, you may be able to hold the manufacturing company liable. Third-party liability options can help you receive full and fair financial compensation. In car accidents involving a motorcyclist, our team of Surprise motorcycle accident lawyers can help you hold the negligent party liable for any injuries they caused.
What if You Are Also at Fault In A Car Accident?
If you believe that you caused or contributed to your car accident in Arizona, this does not necessarily mean that you are ineligible for financial recovery. Arizona has a comparative negligence rule that states that an injured accident victim can still recover partial financial compensation even if he or she contributed to the injury being claimed. In other words, if you are found to be partially at fault for the accident, you can still recover at least some financial compensation.
Under Arizona's pure comparative negligence law, the courts will reduce your financial recovery by a percentage that is equivalent to your degree of fault for the car accident. The "pure" part of the rule means that you can recover funds for an accident after being found at any degree of fault for the crash – even 99 percent. In a modified comparative negligence state, on the other hand, the ability to recover is capped at a specific percentage, usually around 50 percent.
What Is the Average Car Accident Settlement in Arizona?
Understanding the value of your car accident case is important as an injured victim. Determining the value of your case means that you will be better informed during negotiations with a car insurance company – allowing you to argue for an adequate amount for your losses. There is no such thing as an average car accident settlement. The value of your car accident case will depend on factors that are unique to you, such as how severely you were injured and how long it will take you to recover.
That being said, you may be able to get an idea of how much your case is worth by adding up all of your related economic losses, such as:
Medical expenses
Vehicle repairs
Rental car and travel costs
Losses of income
Disability costs
Legal expenses
Then, work with a Surprise car accident lawyer to estimate your noneconomic losses. These are the intangible ways in which the car accident has affected you, such as physical pain, emotional suffering and mental anguish. The value of these losses is up to a jury's discretion during a car accident lawsuit in Arizona. However, a skilled car accident attorney in Surprise, AZ can carefully analyze your case to help you determine its potential worth.
What Is the Deadline to File a Car Accident Claim in Arizona?
There is a law in Arizona that places a deadline on a cause of action. The courts take this law seriously and are strict in its enforcement. With rare exceptions, the courts in Arizona will not accept a case that is brought past its time limit. This law, known as the statute of limitations, changes according to the type of case. It also changes from state to state. In Arizona, the statutes of limitations that may apply to your car accident case are:
Personal injury claim: two years
Personal injury to a minor: two years from the date of the minor's 18th birthday
Property damage claim: two years
Product liability claim: two years
Wrongful death: two years from the date of death
Claim against the government: 180 days
It is critical to speak to an attorney as soon as you can after a car accident about the right to file a legal claim. While two years seems like a long time, waiting can result in the destruction of important evidence. For example, the memory of the car accident may grow fuzzy in an eyewitness's mind. Taking prompt action to speak to a lawyer can ensure the strongest car accident claim possible.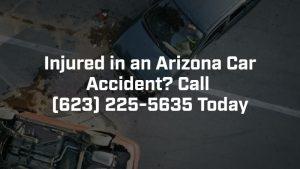 Injured in a Car Accident in Surprise, AZ? Our Attorneys Can Help
If you were recently injured in a car accident in Surprise, Arizona, you may have many questions about your rights and the legal process ahead. Sargon Law Group is dedicated to helping crash victims and their families. Our team of personal injury attorneys in Surprise have everything that you need to build a strong car accident case and fight for the financial compensation that you deserve.
To find out how we can help you, request a free case consultation. We will listen to your story and answer your questions at no cost or obligation. Call (623) 225-5635 or describe your situation briefly in an online message and we will get back to you as soon as possible.