A dog bite injury is a painful and frightening experience that can leave you with significant physical injuries, emotional damage and expensive medical bills. At Sargon Law Group, our dog bite attorneys in Surprise, Arizona are dedicated to representing victims and families after animal attacks in Maricopa County and the surrounding region. We understand how greatly dog bite injuries can affect survivors and their loved ones and will work tirelessly to pursue justice and financial compensation on your behalf. Call (623) 225-5635 for a free consultation to review your options.
Why Choose Our Dog Bite Attorneys?
We offer a personal touch with all of our legal services. You will always have a direct line of communication with the Arizona personal injury attorney working for and with you.
Our dog bite lawyers in Surprise, AZ have decades of experience in personal injury law, with insurance settlement expertise and trial capabilities to put our clients in the best position.
We take dog bite injury claims in Surprise, Arizona on a contingency fee basis. This means we only charge for our services if we win the case.
Arizona Dog Bite Laws
There are two main types of dog bite injury laws: strict liability and the one-bite rule. Arizona uses a strict liability law. Arizona Revised Statutes Section 11-1025 states that an owner or controller of a dog who bites a person (other than a trespasser) is responsible for the damages suffered by the victim, regardless of the owner's knowledge of the dog's viciousness.
In other words, in Arizona, a pet owner is responsible for a dog bite injury whether or not the owner was to blame or if the dog had a history of being vicious. In a one-bite state, however, there must be proof that the dog had previously bitten or injured someone in the past to find the owner responsible for a second or subsequent injury. Arizona's strict liability dog bite law makes it easier for victims to recover compensation.
Most Common Dog Bite Injuries
Dog bite injuries can range anywhere from relatively mild breaks of the skin to severe lacerations and even amputations. The reality is that every dog bite victim must seek medical care, regardless of the severity of their injuries. There are times when even relatively minor bite injuries turn into major medical events because of an infection that goes untreated.
Dogs have incredibly powerful jaws, even smaller dogs. Some of the most common injuries caused by dog bite incidents include:
Puncture wounds and lacerations

Severed veins or arteries

Injuries to muscles, tendons, and ligaments

Amputations of the fingers

Broken bones in the hands or fingers

Major facial injuries

Significant infections

Major scarring and disfigurement
In addition to the physical injuries caused by a dog bite incident, it is important to understand how these injuries can affect individuals emotionally and psychologically. Dog bite injury victims could suffer from extended feelings of anxiety, stress, fear, and even symptoms of post-traumatic stress disorder (PTSD).
Compensation Available for a Dog Bite Injury
A successful dog bite injury claim in Surprise, Arizona can result in financial compensation for many different past and future losses connected to the incident. It can give you the financial recovery that you and your family need to pay for related bills and move forward from a traumatic event. Recoverable types of damages include:
Medical bills
Lost wages
Pain and suffering
Emotional distress and phobias
Permanent scarring and disfigurement
Legal expenses
Wrongful death damages
Punitive damages
Our dog bite lawyers in Surprise, Arizona can accurately evaluate your dog bite injury case to give you an idea of how much it might be worth. Then, we can use proven legal strategies to fight for the amount of financial compensation that you deserve. If you have lost a loved one after a fatal dog bite injury, contact our wrongful death lawyers in Surprise for compassionate support and legal representation to hold the negligent party responsible.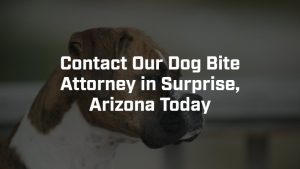 How Long do You Have to File a Dog Bite Claim in Arizona?
There are a few deadlines that you need to be aware of associated with dog bites in Surprise, Arizona. First, it is important to understand that most dog bite claims will be resolved through settlements with an insurance carrier, often a homeowners insurance carrier. Insurance carriers typically have strict reporting deadlines, sometimes within a few days after an incident occurs. It is crucial to get your claim filed with an insurance carrier as soon as possible so that you can avoid any claim delay or denial.
In the event a personal injury lawsuit against the at-fault party becomes necessary, dog bite victims must file their claim within two years from the date the injury occurred. If the claim is not filed within this Arizona personal injury statute of limitations, the dog bite victim will become unable to recover any compensation for their losses.
Steps to Take Right After a Dog Bite Occurs
There are various steps that individuals need to take right after a dog bite occurs in order to maintain the integrity of their claim and ensure their well-being:
Seek medical treatment

. Dog bite injury victims must seek medical treatment, even if the injuries do not seem severe. Even a minor puncture wound from a dog bite can lead to a major infection. More severe injuries must receive emergency medical care, and individuals should call 911 for severe dog bite injuries.

Contact animal control or the police

. Animal control or the police should be alerted to the incident so they can complete an investigation. Every jurisdiction has different requirements for reporting dog bite injuries, so we encourage you to call your local police department and ask what steps you should take to get the injury reported.

Obtain and preserve evidence

. Individuals should obtain evidence if they are able to do so at the scene of the incident. This can include using a cell phone to take pictures of the injuries, damaged clothing, the dog, and the area where the incident occurred. If there were any eyewitnesses to the dog bite incident, their names and contact information should be written down so they can be reached later. 

Contact an attorney

. We strongly encourage all dog bed injury victims to reach out to a skilled dog bite injury lawyer in Surprise. An attorney can handle every aspect of the claim, including investigating the incident and handling all communication with other parties involved.
Request a Free Consultation With a Surprise Dog Bite Attorney Today
If you or someone you love has been injured in a dog bite incident in Surprise, Arizona, don't hesitate to contact the dog bite attorneys at Sargon Law Group for a free initial case consultation. We will listen to your story, give you legal advice and tell you what you should do next. Our personal injury lawyers in Surprise, Arizona have decades of experience handling complex personal injury cases, including dog bite injury claims. We have what it takes to guide you through your case from start to finish. Call (623) 225-5635 or contact us online to book your free case consultation.