Alcohol-impaired driving regularly leads to significant injuries and traffic fatalities throughout the state of Arizona. At Sargon Law Group, our team is here to help if you need a Surprise, AZ drunk driving accident attorney by your side. If you or your loved one has been injured due to the negligent actions of an impaired driver, our team of Phoenix personal injury lawyers will help handle the insurance claim and personal injury lawsuit on your behalf so you can recover compensation.
Why Choose Sargon Law Group for a Drunk Driving Accident Claim?
At Sargon Law Group, our team believes in justice when it comes to securing compensation after drunk driving accidents in Surprise and throughout Arizona.

We use a personalized approach to every single case that we handle, which means we take the time to listen to your story and needs as we formulate your case strategy.

Our attorneys and the team are available 24 hours a day, seven days a week, so you can always reach us for a consultation or questions about your ongoing case.
Arizona Drunk Driving Accident Statistics
Information presented by the Arizona Department of Transportation indicates that there were approximately 5,600 total alcohol-related collisions across the state during the most recent reporting year on file. Out of these incidents, there were more than 3,600 injuries, and 243 individuals lost their lives. In addition to injury collisions associated with alcohol impairment, there were over 3,000 total property-damage-only collisions. Further breaking down the data, we can see that there were more alcohol-related injuries and fatalities in urban areas throughout Arizona than the rural areas of the state. 
Can You Seek Compensation if You're Injured by a Drunk Driver?
Individuals who sustain injuries caused by the actions of an impaired driver in the Surprise, Arizona, area may be able to recover a range of types of compensation if their claim is successful. Whether through an insurance settlement or as a result of a personal injury lawsuit, the goal of the attorneys at the Sargon Law Group is to recover both economic and non-economic damages on behalf of the injury victim.
Economic damages associated with a drunk driving accident revolve around measurable expenses that victims are likely to endure as a result of the injuries and the incident. Our team will add up bills and receipts to help adequately calculate the following:
Emergency doctor or hospital bills

All follow-up medical visits

Prescription and over-the-counter medications

Medical devices

Property damage expenses

Rental vehicle costs

Lost wages and loss of future income 
Non-economic damages associated with a drunk driving accident focus on more immeasurable aspects of how these incidents affect the victim. These types of losses revolve around what many people consider "pain and suffering," but there are multiple facets of these damages we help clients with. Using various formulas, our team will work to recover compensation for a drunk driving accident victim's physical and emotional pain and suffering as well as their loss of enjoyment of life.
There is no set amount of compensation paid to drunk driving accident victims in Surprise. Rather, total compensation amounts depend heavily on several factors related to each specific incident, including injury severity, how long it takes a person to recover, whether or not there was any shared fault, and more.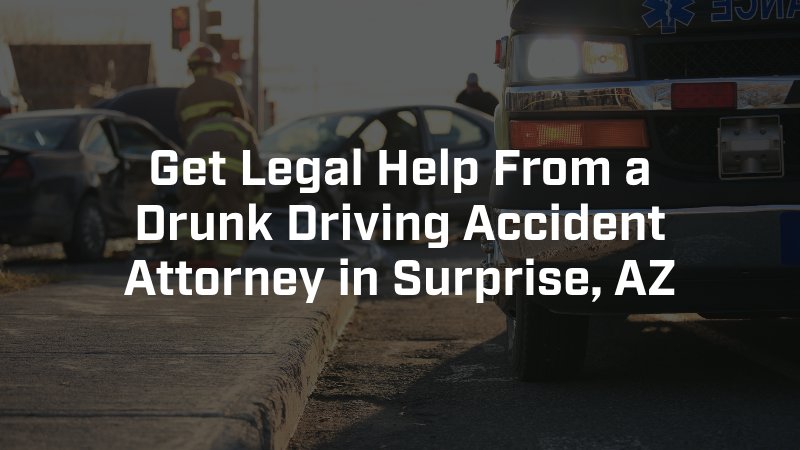 How an Attorney in Surprise, Arizona Will Help Determine Liability
Determining liability after a drunk driving accident in Arizona can be challenging but certainly not impossible. The goal is to obtain as much evidence as possible from the scene of the incident and in the days and weeks that follow to determine the fault of any other party involved. For these claims, some of the main types of evidence obtained include:
Photograph taken at the scene of the incident

Video surveillance from any nearby cameras

Statements from eyewitnesses to the incident

The police report

The result of any blood alcohol tests or field sobriety tests

Any information related to charges the driver receives

The disposition of any drunk driving charges
Your Surprise, AZ, drunk driving accident lawyer can get involved quickly and work to obtain all this evidence and more on your behalf. The goal is to show that the alleged drunk driver failed to uphold their duty of care to you and possibly others on the roadway.
How Long Do You Have to File a Drunk Driving Accident Claim?
Individuals injured due to the negligent actions of a drunk driver have a limited amount of time to file a lawsuit. The personal injury statute of limitations in Arizona is two years from the date an injury occurs. This means that a drunk driving accident victim has two years with which to file a lawsuit. Failing to do so within this time frame will likely mean the case gets dismissed, and the victim becomes unable to recover compensation for their losses. Please work with an experienced car accident lawyer in Surprise, Arizona to ensure your claim is filed promptly. 
In addition to this time frame, the insurance carriers involved will have their own reporting deadlines you need to be aware of. Failing to file an insurance carrier promptly, typically within a day or two after the incident, could result in a delay or claim denial. We encourage you to work with your attorney to ensure that your claim gets filed on time with the insurance carriers and in the civil court system.
Call a Surprise, Arizona Drunk Driving Accident Lawyer Today
If you or a loved one have been injured due to the actions of a drunk driver in the Surprise area, reach out to Sargon Law Group for assistance immediately. Our team of Surprise personal injury attorneys will get to work investigating your claim as soon as possible, which includes initiating a conversation with the insurance carrier. Our goal is to help you recover every dime you deserve from the drunk driver and their insurance carrier. When you need a Surprise, AZ drunk driving accident attorney, you can reach out for a free consultation by filling out our contact form or calling us at (623) 225-5635.