Arizona is a popular riding destination for both local and out-of-state motorcyclists. Unfortunately, distracted and reckless drivers in Arizona cause dozens of motorcycle collisions each year. If you've been injured in a motorcycle accident in Surprise, Arizona, the motorcycle accident attorneys at Sargon Law Group can help you pursue justice and fair financial compensation. We stand by injured motorcyclists and are committed to their recoveries. Call (623) 225-5635 for a free consultation today.
Why Choose Sargon Law Group
Our Arizona motorcycle accident lawyers are results-driven, with years of litigation, insurance and trial expertise that enable us to fight for top outcomes for our clients.
Our Surprise personal injury lawyers understand how motorcycle accident cases work and can guide you through the claims process. We are available 24/7; you will have a direct line to your attorney.
We operate on a contingency fee basis for all motorcycle accident cases, which means that you won't pay any attorney's fees unless we win compensation on your behalf.
How Negligence Causes Motorcycle Accidents
A keyword that you will hear during your motorcycle accident case is negligence. Negligence is the legal doctrine on which most personal injury and wrongful death cases are based. The definition of negligence is the failure to act in a reasonable manner. If a motor vehicle driver doesn't pay attention to the road and collides with a motorcyclist, for example, the driver has been negligent.
Common examples of negligence behind motorcycle accidents in Surprise include:
Cell phone use
Inattentive drivers
Failing to check blind spots/unsafe lane changes
Merging on top of a motorcyclist
Dangerous left-hand turns
Pulling out in front of a motorcyclist
Tailgating or aggressive driving
Passing too closely
In Arizona, the driver or party at fault for a motorcycle accident is financially responsible (liable). You may have to prove that the other party is at fault, however, before recovering financial compensation from an insurance provider. A motorcycle accident attorney in Surprise can help you with the burden of proof against a careless, reckless or negligent driver. You may also have grounds against a product manufacturer, property owner, employer or the government, depending on the cause of your crash.
Common Motorcycle Accident Injuries
At Sargon Law Group, we have the ability to represent clients who have suffered all types of physical and emotional injuries in motorcycle wrecks in Surprise, including:
Post-traumatic stress disorder
Bone fractures and compound fractures
Soft-tissue injuries
Dislocations
Internal injuries
Neck and back injuries
Traumatic brain injuries
Concussions
Facial injuries and lost teeth
Road rash or lacerations
Permanent scarring
Permanent disability
Motorcyclists are highly susceptible to injuries in vehicle collisions. Motorcycle accidents can easily cause severe to catastrophic injuries for riders and their passengers, resulting in expensive medical costs and other losses.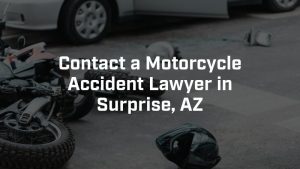 What Financial Compensation Is Available In a Motorcycle Accident Claim?
Motorcycle accident victims may be able to recover a range of types of compensation from an at-fault party. At Sargon Law Group, the goal of our Phoenix personal injury lawyers is to help clients recover both economic and non-economic damages for their losses caused by the motorcycle crash.
Economic damages

. These types of damages revolve around the types of losses most people expect to occur as a result of a motorcycle crash. There will be various receipts, bills, and invoices that come to a motorcyclist as a result of the incident, and all of these expenses can be added up and calculated fairly easily. Some of the most common economic damages associated with a motorcycle crash in Surprise, AZ include:

Any emergency medical expenses

Ongoing hospital or doctor follow-up visits

Physical therapy and rehabilitation

Prescription or over-the-counter medications

Lost wages

Property damage expenses

Rental vehicle expenses

Non-economic damages

. These types of damages are not as measurable as the economic losses just mentioned. These types of losses were all around what individuals often consider the "pain and suffering" that a person may experience after a motorcycle crash. Non-economic damages seek to provide individuals compensation for their emotional and psychological pain and suffering, physical pain and suffering, as well as their loss of quality of life.
How to Determine Liability for Motorcycle Accidents
Determining liability after a Surprise, Arizona motorcycle crash can be challenging and begins with gathering as much evidence as possible. Often, there are various types of evidence obtained at the scene of the incident, including photographs taken by those involved. These photographs can include vehicle damage, causes of the crash, license plate numbers, debris and skid marks, traffic and weather conditions, and more. It has not been common for there to be various types of video surveillance from nearby cameras that may help paint a picture of what happened to cause the crash.
Statements from eyewitnesses to the incident, as well as statements from those involved, will also be used when it comes to determining liability. However, the evidence-gathering process does not stop as soon as the scene is cleared. Liability may not always be evident right away, and additional evidence could be necessary. This could include vehicle black box data, mobile device data, the outcome of any citation issued at the accident scene, the police report, and more.
How Long do You Have to File a Motorcycle Accident Lawsuit in Arizona?
In Arizona, individuals must keep in mind certain deadlines related to filing their claim. The personal injury statute of limitations in this state is two years from the date the injury occurs. If a motorcyclist fails to file a lawsuit against the alleged negligent party within this two-year time frame, they will likely become unable to recover the compensation they are entitled to.
Additionally, it is crucial to keep insurance carrier deadlines in mind as well. Any insurance carriers involved in the claim will have their own reporting deadlines, typically within a few days after the incident occurs. Even if the incident was not your fault, you need to report it to your insurance carrier. We encourage you to speak to your attorney about how to approach this process, and you can even let your attorney be the one to report the incident.
Speak to a Motorcycle Accident Attorney in Surprise, Arizona Today
A motorcycle accident can lead not only to serious injuries and possible disability for the rest of your life, but brain injuries, cognitive issues and emotional pain and suffering. Filing an Arizona personal injury claim can do more than just provide a financial recovery; it can bring you or your loved one justice. The Surprise motorcycle accident lawyers at Sargon Law Group care about injured motorcycle accident victims and their families. Find out how we can help you during a free initial case consultation. Call our local law office at (623) 225-5635 today.