An accident can derail your life, resulting in serious injuries and significant losses for you and your family. At Sargon Law Group, we understand how dramatically an accident can impact you. We are committed to helping injured accident victims recover and move forward through aggressive and personalized legal strategies. We can help you and your family get through this difficult time and fight for the financial compensation that you deserve. Contact our personal injury attorneys in Surprise, Arizona today to start with a free case evaluation.
Why Choose Sargon Law Group?
We believe in open communication and will give you a direct line to the attorney who is working for you and with you on your case.
Our team of Surprise personal injury attorneys have a reputation for high-quality legal services and customer care after decades of experience in this practice area.
Sargon Law Group accepts clients on a contingency fee basis. This means that you will only pay our attorney's fees if we secure financial compensation on your behalf.
How Can a Personal Injury Attorney in Surprise, AZ Help?
Retaining a personal injury attorney to represent you during an injury claim can come with many important benefits. First, you can feel confident knowing that your attorney can skillfully handle negotiations with an insurance provider on your behalf.
Second, you will have the power to go to trial if an insurance company refuses to pay you an adequate amount. It is generally accepted that accident victims with a licensed attorney get three times (3x) more in settlements.
Third, you will have an experienced professional handling complicated legal tasks for you, such as investigating your accident, interviewing eyewitnesses and hiring experts.
Lastly – and most importantly for many clients – hiring an attorney will allow you to concentrate all of your energy on healing and moving forward after a traumatic accident. Your Arizona personal injury lawyer can handle complicated processes for you, such as filling out claims paperwork, and take on the legal headaches, while you focus on healing.
What Are the Elements of a Personal Injury Case in Arizona?
Not every accident in Surprise, Arizona will give you the right to bring a personal injury cause of action. You can only hold someone else accountable for your accident if you have legal grounds for a claim. Some of the most common legal grounds are negligence, strict liability, breach of warranty, premises liability and product liability. Our premises liability lawyer in Surprise, Arizona understands the Arizona laws and can represent you with your claim.
Negligence in personal injury law is any act or failure to act that violates the individual's responsibility of care to the victim. For example, our car accident attorneys in Surprise have handled cases where a driver is guilty of negligence if he or she falls asleep behind the wheel and causes a car accident. A personal injury case based on negligence requires clear and convincing evidence of four key elements:
A duty of care was owed. The defendant must have owed the injured party (plaintiff) a duty to exercise reasonable care. This is a legal obligation to act in a way that a rational party would in the same or similar circumstances.
Violation of the duty of care. An action or omission by the defendant must have breached his or her duty of care to the plaintiff.
Causation. There must be proof that the defendant's breach of the duty of care is what caused the accident or injury in question.
Damages. Finally, the victim must have proof of compensable losses, such as medical bills related to a serious injury.
Evidence that is often used to prove negligence in a personal injury case includes photographs, videos, surveillance footage, signed statements from eyewitnesses, expert testimony, accident reconstruction and medical records. If your case is not based on the legal theory of negligence, your injury attorney in Surprise, AZ can help you understand the required legal elements and evidence for your specific situation.
What Financial Compensation Is Available in a Personal Injury Case?
If you or your Surprise personal injury lawyer successfully meets the burden of proof in a personal injury case, you may receive a settlement from an insurance company or a positive jury verdict during a trial. This will give you and your family financial compensation for the losses that you suffered in relation to the accident or injury. Compensable losses can be both economic and noneconomic:
Hospital bills and ongoing medical care
Losses of income and employment opportunities
Lost future capacity to earn due to a disability
Home and vehicle modifications to accommodate a disability
Property damage repairs
Out-of-pocket costs
Legal fees
Pain and suffering
Emotional injuries
Loss of consortium
Punitive damages
An experienced Surprise personal injury attorney at Sargon Law Group can carefully analyze your case to estimate its value. Factors used to calculate a case's value typically include the injury diagnosis, the victim's prognosis for recovery, the victim's age and income, and the actions of the defendant. In cases of fatal accidents, our compassionate team of wrongful death lawyers in Surprise can help you secure maximum compensation. Working with a Surprise personal injury attorney can ensure that you fight for the full value of your case rather than accepting an inadequate settlement offer.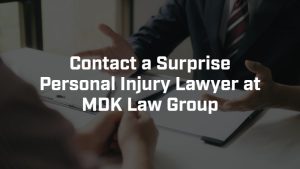 How Will a Personal Injury Lawyer in Surprise Help Secure Fair Compensation?
One of the important aspects of having a personal injury attorney in Surprise, AZ work on your case is that they will have the resources needed to help adequately calculate your total losses. In many cases, these losses are relatively straightforward and can be added up using bills and receipts. However, particularly when examining noneconomic losses, it may be necessary to work with trusted medical and economic experts who can help calculate damages.
A skilled personal injury lawyer in Surprise will not take shortcuts when it comes to properly calculating how much compensation you should receive for your claim.
How Partial Liability Affects a Surprise, AZ Injury Claim
It is not uncommon for there to be more than one party responsible for an injury claim. In fact, sometimes, individuals are responsible for causing their own injury in some way. However, that does not necessarily mean that a person will receive no compensation. Arizona operates under what is called a "pure comparative negligence" system, which allows individuals to recover compensation even if they are up to 99% responsible for their own injuries. 
However, this system does not allow the full recovery of conversation for those who are partially responsible. Injury victims will receive reduced compensation commensurate to their percentage of fault for the incident. In a motorcycle accident for example, if an injury victim sustained $100,000 worth of medical bills, but a jury determines, based on the evidence, that they were also 15% responsible for causing their own injuries, then they would receive $80,000, which is 15% less than the medical bills. This accounts for their percentage of fault. In these cases, working with an experienced Surprise motorcycle accident lawyer can help you determine the compensation you deserve. 
What to Say to an Insurance Claims Adjuster
If you are already being contacted or questioned by an insurance claims adjuster about your case, learn how to protect your rights. Insurance claims adjusters work for insurance companies, not for you. Their goal is to save the insurance company as much money as possible on your payout – even if this means devaluing your losses. Protect yourself by keeping the following tips in mind:
Don't admit fault for the accident.
Keep your answers short, simple and honest.
Do not offer any information that is not specifically requested.
Be polite to the insurance adjuster, but don't agree to give a recorded statement
Don't sign anything given to you by the insurance company.
Don't rush into a fast settlement.
Know that you have the ability to negotiate, even if the adjuster says it is the best or final offer.
If you do not wish to speak to an insurance claims adjuster about your personal injury case on your own, you have the right to hire a personal injury attorney in Surprise to negotiate for you. A Surprise, AZ personal injury attorney can take over all communications with a claims adjuster on your behalf, using proven legal strategies and trial experience to enhance your odds of a positive outcome.
Will Your Personal Injury Case in Surprise, Arizona Go to Court?
When individuals sustain an injury in Surprise, AZ, they may be able to recover compensation for their losses. However, whether they recover that compensation through an insurance settlement or through a civil personal injury lawsuit against the at-fault party will depend on various factors.
The vast majority of personal injury claims in Surprise are resolved through settlements with insurance carriers. The type of insurance carrier will depend on the type of claim at hand. For example, some of the most common settlements come from car insurance companies or homeowners' insurance carriers. However, even when an insurance carrier is involved, that is not a guarantee that a settlement will be forthcoming or fair. Insurance carriers are usually for-profit entities that will do what they can to limit how much compensation they pay to a claimant.
In the event a settlement is not reached, or if the claim is denied, the personal injury victim will likely need to file a civil personal injury lawsuit against the at-fault party. This puts the case into the court system but does not necessarily mean that the victim will have to go to court. Often, there are negotiations that continue during the discovery process that leads one side or the other to settle or drop the claim before going to trial. 
Contact a Surprise Personal Injury Lawyer Today | Free Case Review
If you or a loved one has been injured in an accident in Surprise, Arizona, you may be eligible for financial compensation from one or more parties to make you whole again. At Sargon Law Group, we are committed to pursuing the results that our clients deserve. Our team of personal injury lawyers in Surprise will go above and beyond to make sure that you and your family have everything you need to move forward after an accident.
Start your case with a free, no-obligation case evaluation at our local law office. Call (623) 225-5635 or contact us online today to request a meeting. We care about protecting your rights and seeking fair compensation as an injured accident victim in Surprise.