If you get injured while on someone else's property in Surprise, Arizona, the law may entitle you to financial compensation. At Sargon Law Group, our Surprise premises liability lawyers can assist you with this type of case. Our team of attorneys in Surprise understand how devastating these types of accidents can be for victims and are here to help. The Surprise personal injury lawyers at Sargon Law Group will advocate for your rights and best interests through every stage of the legal process, starting with a free consultation at our local law office. Call (623) 225-5635 for a free consultation today.
Why Hire a Premises Liability Lawyer in Surprise, AZ?
Retaining an attorney to take care of the legal process for you can give you the mental peace to focus on your recovery after a premises liability accident in Surprise. A premises liability lawyer in Surprise, AZ can make it easier to recover the financial compensation that you need to move forward, such as by filling out confusing claims paperwork and submitting it by Arizona's deadline. An experienced Surprise premises liability lawyer can also negotiate with a homeowners insurance company and take your case to trial, if necessary. Obtaining a fair award can be critical for your financial future, especially if you suffered a serious injury that will have latent medical needs.
What Is Premises Liability?
Premises liability is a legal doctrine that states that property owners are financially responsible for the injuries and deaths that take place on their premises due to hazardous or dangerous conditions. To have grounds for a premises liability case in Arizona, you must have proof of the following elements:
You were lawfully on the property at the time of your accident, either as an invitee or licensee. (There is an exception for trespassers who are under the age of 18). An invitee is someone invited to a property for the owner's purposes, such as a customer at a business. A licensee visits for his or her own reasons, such as a social guest.
The owner of the land or business knew or reasonably should have known about the hazard or defect that caused your injury. Examples would be a hazard that had been on the property for a long time or something obviously dangerous. A property owner has a responsibility to inspect his or her property regularly for new, unknown or hidden dangers.
The property owner did not make a reasonable effort to keep you safe from the hazard or your foreseeable injuries. Efforts that are viewed as reasonable will depend on what a prudent and rational property owner would do in the same or similar circumstances.
An experienced premises liability attorney in Surprise, AZ can help you understand and navigate these elements of proof for a stronger claim, as well as gather evidence of the property owner's fault for your recent injury or illness on your behalf.
Common Types of Premises Liability Accidents in Surprise, Arizona
Many different types of premises liability accidents result in civil claims in Surprise, Arizona. It is a property owner's duty to inspect his or her property for potential hazards, repair any discovered defects, and warn visitors of potential risks. The careless failure to do so can result in preventable accidents and injuries, including:
Slip, trip and fall accidents
Elevator and escalator accidents
Structural collapses
Swimming pool accidents
Electrocutions
Fires or floods
Negligent security
These accidents can cause guests and visitors serious injuries, such as dislocations, soft-tissue injuries, bruises, cuts and scrapes, bone fractures, concussions and other brain injuries, back injuries, and more. The injuries suffered in a premises liability accident can follow a victim for life.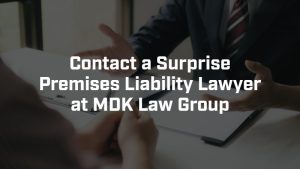 Book a Free Case Review With a Surprise Premises Liability Lawyer
If you were recently injured in a premises liability accident in Surprise or the surrounding area, discuss with our Phoenix personal injury attorney at Sargon Law Group to find out how we can help. Request a free case consultation so that we can hear the details of your accident, answer your questions and give you legal advice about how to move forward. We care about accident victims in Surprise and holding property owners accountable for preventable injuries. Call (623) 225-5635 or contact us online today for your case evaluation.