Truck accidents are some of the most serious collisions that take place on Arizona's roads and highways. If you were recently involved in a truck accident in Arizona or lost a loved one in this type of devastating crash, we can help. The Surprise truck accident attorneys at Sargon Law Group are committed to representing individuals and families in cases against truck drivers, trucking companies, and others involved in these collisions. We hold negligent wrongdoers accountable. Call (623) 225-5635 to discuss your case in detail at no charge today.
Why Choose Our Surprise Truck Accident Attorneys?
Our attorneys only accept personal injury cases, with a special emphasis on car, motorcycle and truck accidents and wrongful death. Our Surprise personal injury attorneys have in-depth knowledge and experience on these subjects.
Our team of attorneys will guide you through your case with a personal touch. When you hire us, you receive a direct line to your attorney to use throughout the claims process.
We accept all semi truck accident cases in Surprise, Arizona on a contingency fee basis. This means you won't pay your attorney until he or she secures financial compensation for your case. No win, no fee, guaranteed.
Why Hiring an Attorney Is Important in a Truck Accident Case in Surprise, AZ
A truck accident lawyer in Surprise can help you and your family after any type of vehicle accident or collision that leaves you injured and facing expensive associated costs. It is especially important to hire an Arizona motor vehicle accident attorney, however, if you get into an accident involving a commercial or delivery truck. This is because these cases have several unique elements, including:
Catastrophic injuries. Big rigs far outweigh smaller passenger vehicles. In a collision between the two, the smaller car will always lose. Passengers in the smaller car can suffer catastrophic injuries, or injuries that cause long-term or permanent disability.
Powerful adversaries and interests. Bringing a claim against a trucking corporation is not the same as going up against an individual motor vehicle driver. Trucking companies have aggressive legal teams and insurance companies with extensive resources to fight claims.
Federal safety laws. Unlike standard drivers, truck drivers and trucking companies must obey special federal safety laws, such as load securement rules, hiring and training requirements, and hours-of-service limitations. Violating these rules can increase the risk of an accident.
A lawyer has the ability to navigate all of these elements in the pursuit of justice on your behalf. Your lawyer will understand all of the rules and laws surrounding trucking accidents in Arizona, as well as how to properly handle your claim for optimal results.
Top Causes of Truck Accidents in Surprise, Arizona
Like most states, Arizona uses a fault law to determine liability, or financial responsibility, for a motor vehicle accident. After a truck accident, it is necessary to determine fault before you can file an insurance claim. Trucking companies and their drivers are often responsible for truck accidents in Surprise and throughout Arizona. This is because they engage in practices that are dangerous to save time or money, such as a company pressuring its drivers to break hours-of-service regulations to make it to their destinations faster.
Common examples of mistakes that cause truck accidents in Surprise include:
Unqualified or untrained truck drivers
Poorly maintained vehicles
Distracted driving
Texting while driving
Drowsy driving
Speeding or driving too fast for conditions
Following too closely
Changing lanes without looking or signaling
Using the incorrect brake techniques
Driving through stop signs or red lights
Improperly loaded or secured cargo
Despite being responsible for large and dangerous commercial motor vehicles, many truck drivers are negligent, or careless, behind the wheel. They can make the same mistakes as typical motor vehicle drivers. Other commercial truck accidents in Arizona trace back to carelessness or rule violations by commercial trucking companies. Either way, you may be entitled to financial compensation for the collision.
Who Is Liable in a Truck Accident?
Liability for a truck accident in Arizona is allocated to the party or parties most at fault for causing the collision. This is how Arizona's fault-based insurance system works. For example, if an investigation finds the trucking company to be at fault for the collision, the company's insurance provider will pay for related losses and injuries.
A trucking company can be vicariously liable for the mistakes of its drivers in Arizona. Vicarious liability is a rule that states that employers are responsible for the injuries caused by their employees in the course of their employment. Even if a truck driver is technically an independent contractor working for the trucking company, vicarious liability could still fall to the company under federal law.
At Sargon Law Group, our truck accident lawyers in Surprise, Arizona can help you determine who is liable for your truck accident and related losses. We can conduct a comprehensive investigation of the truck accident to determine causation. We can go up against a trucking company, independent truck owner or operator, cargo company, part manufacturer, maintenance crew, or other parties in pursuit of maximum financial compensation on your behalf.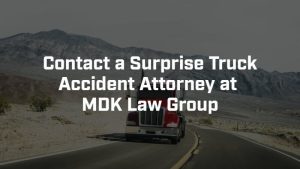 What Evidence Can Be Used in a Truck Accident Case?
As the filing party in a truck accident lawsuit, it is up to you or your truck accident lawyer in Surprise, AZ to prove that the defendant is at fault. This requires clear and convincing evidence of liability. One of the many things that make a truck accident case unique is the types of evidence available to support a claim. Evidence can include:
The truck's black box
Event data recorders
Truck inspection and repair reports
Daily logs made by the truck driver
The trucking company's compliance history
The truck driver's driving record and qualifications
The truck driver's medical history
The truck driver's cell phone records
The key to preserving and collecting the evidence that you need to prove your truck accident case is contacting an attorney as soon as possible. Trucking companies have the resources to send investigators to the scenes of accidents almost immediately. Contacting our Phoenix truck accident attorneys right away gives you the opportunity to also collect evidence before it is too late.
Contact a Surprise Truck Accident Attorney Today for Free
Truck accidents can be physically, emotionally and financially devastating for victims and surviving family members. At Sargon Law Group, we understand how heavily commercial truck accidents can impact our clients. Our team of personal injury lawyers in Phoenix are committed to providing the legal representation that our clients need to move forward from these life-changing collisions. Discuss how we can help you with an insurance claim or injury lawsuit after a truck accident in Surprise, Arizona today. Request a free case consultation online or by calling (623) 225-5635.