Sustaining an injury or property damage in an accident caused by a drunk driver is a terrifying experience. According to information provided by the Arizona Department of Transportation, we can see there were more than 5,600 total alcohol-related crashes during the most recent reporting year across the state. Out of these incidents, there were more than 3,600 injuries, and 243 people lost their lives. Victims should have a route to recover compensation either through an insurance settlement or through a personal injury lawsuit against the negligent impaired driver. Here, our Phoenix drunk driving accident attorneys discuss the types of damages typically available for a successful DUI accident claim in Arizona.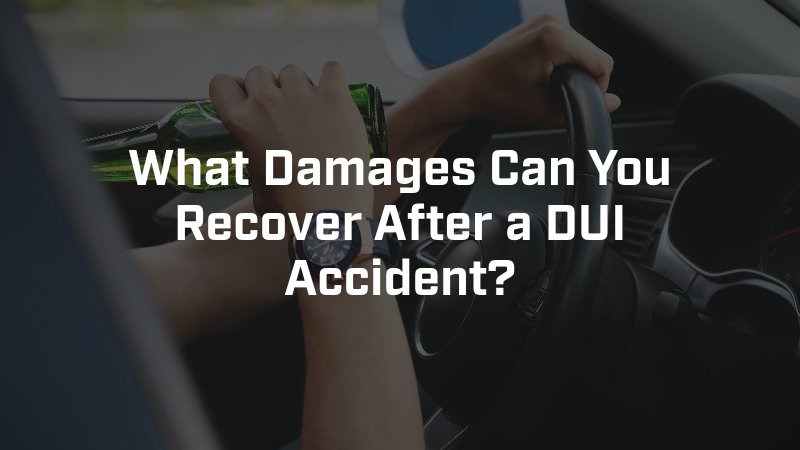 Economic Damages After an Injury From a DUI Accident
Damages after any type of vehicle accident or what most people think of when they think of compensation to a victim. These types of losses revolve around measurable, calculable expenses individuals are likely to incur as a result of the incident. For a DUI accident in Arizona, some of the most common economic damages include the following:
All emergency hospital expenses

Any surgical care needed

All follow-up doctor or hospital visits

Any medications or medical devices needed

Lost wages and loss of future earnings if a person isn't able to work

Assistance with household out-of-pocket expenses

Property damage expenses

Rental vehicle expenses
Calculating economic damages involves gathering any receipts or bills that come in after the incident occurs. In some situations, it may be necessary to work with economic and medical experts to help predict the cost of some of the future expenses, including additional medical care or any in-home medical treatments that may be needed.
Non-Economic Damages After a DUI Accident
Non-economic damages are equally as important but different than the economic damages just mentioned. These types of losses are more immeasurable, which means they may not necessarily be receipts or bills that can be easily obtained and added up to show the true costs of these losses. These types of damages revolve around what many consider the "pain and suffering" of a victim, but we need to get a little more nuanced than that. This type of compensation seeks to provide money for a DUI accident victim's:
Physical pain and suffering

Emotional and psychological pain and suffering

Loss of quality of life

Loss of consortium for a spouse and family members
There are a few accepted methods for adequately calculating non-economic damages, including the multiplier method. Using this method, a skilled Phoenix personal injury attorney will add up all the economic damages associated with the incident and then multiply that total by a set number, often a number ranging from 1.5 to 5. For example, if a DUI accident victim sustains $100,000 worth of medical bills, an attorney could use a multiplier of "three" to reach a non-economic damage total of $300,000.
Possible Punitive Damages for Drunk Driving Accident Victims
Punitive damages, often referred to as exemplary damages, are only awarded in rare circumstances. In Arizona, these damages are only available if it can be proven that the defendant acted with an "evil mind" and that they intended to injure the victim. This is exceedingly hard to prove, and we encourage you to speak to your Phoenix car accident lawyer for guidance about whether or not to expect punitive damages for your particular case.