The dedicated attorneys of Sargon Law Group help clients who have serious auto accident injuries receive the compensation they deserve when another person caused the collision. According to the Arizona Department of Transportation, the state had 129,750 motor vehicle collisions and 911 fatal collisions in 2019 alone. While fatal auto accidents slightly decreased, the total number of collisions increased by about 2% from 2018 to 2019. What's more, nearly 75% of the statewide car crashes and 49% of the fatalities occurred in Maricopa County.
If you need car accident lawyers in the Phoenix metro area after an auto accident that injured you or a loved one, explore our guide to Arizona motor vehicle accident law and contact our law firm for a free consultation.
Arizona Car Accident Resources
How a Phoenix Car Accident Attorney Can Help
The Phoenix car accident attorneys at Sargon Law Group update the traditional personal injury law firm model to provide personalized assistance for each and every one of our clients. When you work with our Phoenix car accident lawyers, you will receive outstanding customer service directly from our attorneys throughout the process. We strive to build each attorney-client relationship on communication, transparency, and trust.
Auto accident injuries affect victims from all walks of life and economic backgrounds. After suffering a devastating crash, you may hesitate to seek legal advice because of the associated expense. You may not want to deal with legal fees on top of the cost of property damage and current and future medical expenses. We do not charge an upfront fee for legal representation in auto accident cases.
To succeed in a Phoenix, AZ car accident case, you must prove that negligence on behalf of the other driver directly caused your injuries and that these injuries directly led to out-of-pocket costs. Our law firm has extensive experience with local personal injury cases, from negotiating settlements with auto insurance companies to pursuing litigation on behalf of car accident victims. Our Arizona self driving car accident attorneys are knowledgeable in handling injury claims involving self driving cars. Our experienced hit-and-run accident attorney in Phoenix can represent you and help you seek financial compensation if you suffered injuries due to another party's negligence. We can also assist with Arizona wrongful death cases, in which the survivors of individuals involved in fatal crashes can seek compensation on behalf of their deceased family members.
What Damages Are Available After a Car Accident in Phoenix?
When filing car accident claims, our car accident lawyers in Phoenix, AZ, request both non-economic and economic damages. The latter category includes the direct expenses that result from car accidents, including quantifiable expenses such as current lost wages, projected future earnings, medical expenses, and automobile replacement or repair.
Your Phoenix, AZ car accident attorney from Sargon Law Group will also help you quantify non-economic damages and make a case for including these costs in your car accident settlement. Accident victims can recover compensation from the other driver for disfigurement or loss of function caused by a severe injury, medical bills, both physical and emotional pain and suffering, and loss of life enjoyment.
When you schedule a consultation with our car accident attorneys in Phoenix, our legal team will evaluate the extent of your car accident injuries. We will attempt to recover financial compensation based on a calculation drawn from our experience helping countless other personal injury victims in Maricopa County. Arizona law prohibits courts from limiting the number of damages available after a vehicle collision.
How Is Fault Determined in a Car Accident in Arizona?
If your vehicle accident involved any elements of negligence, or any other type of evidence that another driver was negligent causing your injury, you should be able to recover compensation from the liable party for your losses. Arizona is a fault-based state when it comes to vehicle accidents, and individuals will be able to recover compensation in various ways, including:
File a compensation claim with your own auto insurance provider. An insurance adjuster will investigate the accident and provide a settlement offer. If they believe another driver caused the car crash, your insurance company will go after the other driver's insurance company for reimbursement.

File a compensation claim with the other driver's insurance company. In this case, an investigator will determine whether their client truly has fault in the collision. You should avoid speaking to anyone from the insurance company and instead allow your attorney to speak to them on your behalf. Remember that you do not have a legal obligation to give a statement to anyone from insurance companies after an auto accident beyond notifying your own insurer about the car crash under the terms of your policy.

File a personal injury lawsuit in Maricopa County court. Arizona uses a standard called pure comparative fault, which allows you to sue a responsible party even if you share some fault for the accident. If your case is successful, the judge or jury will determine your fault percentage and reduce your awarded damages accordingly. Arizona courts have found drivers partially at fault in cases involving failure to wear a seatbelt and failure to check for incoming traffic even with the right of way.
These options differ from those available to drivers who live in no-fault states, who can only sue after an auto accident in cases involving catastrophic injuries. Keep in mind that an insurance settlement offer may not cover the full extent of your damages resulting from the car crash. Arizona drivers only have to carry $25,000 per person and $50,000 per accident for bodily injury liability, covering the costs of an at-fault accident. In this case, injured people can sue the driver/liable party for a more appropriate settlement in relation to your injuries.
In some cases, you may also have a lawsuit against the vehicle manufacturer. For example, you could potentially sue the maker of your automobile if brake failure or another malfunction caused the traffic accident resulting in your injuries.
If you decide to file a lawsuit, you typically have two years to submit an injury claim in Arizona. Otherwise, the court will dismiss your case as outside the statute of limitations. The clock starts running on the date of the accident, so it's important to act quickly in this situation.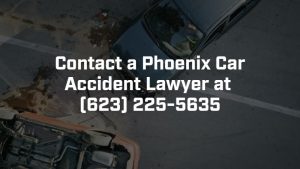 Most Common Causes of Phoenix Car Accidents
Who may examine data available from the Arizona Department Of Transportation, we can see that there were nearly 100,000 total vehicle accidents during the latest reporting year of data we have on file. Out of these incidents, there were more than 41,000 total injuries, and 1,057 individuals lost their lives.
Unfortunately, a significant percentage of vehicle accidents in Arizona are caused by the careless or negligent actions of a driver. The Arizona DOT says that the most common types of violations or behavior that led to vehicle accidents during the latest reporting year include the following:
Speeding too fast for conditions

Failing to yield the right of way

Operating while impaired by alcohol or drugs

Following too closely

Disregarding traffic signals

Improper turn

Unsafe lane change

Failing to stay in the proper lane

Distracted driving
What To Do After a Car Accident in Phoenix
Taking the right actions after a car accident can preserve your ability to seek compensation for injuries. You may feel shocked, frightened, anxious, or confused after a car accident, especially when you are the injured party. However, you must document as much information as possible if you can do so. Follow these steps after a collision to avoid forgetting or missing key details.
Move to a Safe Area
If you can drive your car, move it off the road and onto the shoulder. If your vehicle cannot be driven, make sure you stay out of the path of oncoming traffic.
Notify Law Enforcement
Call the police as soon as possible so they can send assistance to the accident scene. The law enforcement officer will document the collision with a thorough report, which will provide important evidence in cases involving significant injuries and property damage. Write down their name, contact information, and badge number.
Seek Medical Attention for Injuries
When you call 911, let them know if anyone has been hurt in the accident and the nature of the injuries. If you have a serious injury, receive immediate medical attention. Even if you do not have injury symptoms right away, see your health care provider for professional medical care in the hours following the crash. Some serious issues, such as traumatic brain injuries, do not necessarily show immediate signs. In addition, the shock of the accident creates adrenaline that may mask serious symptoms such as pain and nausea. Make sure to keep a copy of your medical records as evidence for seeking compensation later on.
Obtain Contact Information for Witnesses
Document the name, address, insurance information, contact information, and driver's license number of everyone else involved in the crash. Take down the vehicle registration information and the vehicle identification number, license plate number, color, make, model, and year of each car involved in the accident. If you were involved in a rideshare car accident, be sure to get all of the rideshare driver's information, along with the other driver's information. If others who were not involved in the collision witnessed the crash, ask them for contact information and see if they have details about what they saw.
Capture Video and Photo of the Crash Scene
Take images of the entire crash scene, including the front, back, and sides of all vehicles involved. Use the voice memo feature on your smartphone to document everything you remember about the collision, including the circumstances, time, weather, and other conditions. Take pictures of the position of all the cars relative to the road or draw a diagram if necessary. You should also take pictures of all your injuries, including minor damage such as swelling, scratches, and bruises.
Speak With a Car Accident Attorney
Although you have a responsibility to notify your insurance company as soon as possible after an auto accident, avoid doing so without talking to a Phoenix car accident lawyer from Sargon Law Group. An insurance adjuster wants to minimize the company's expenses after an accident. They may offer a settlement that does not reflect the value of your injuries or try to get you to admit fault in the crash. Even if you or a loved one is incapacitated after an auto accident, a Phoenix car accident lawyer can come to you for assistance.
Successful Case Results
Sargon Law Group has a history of successful case results for injury and accident victims across Phoenix, AZ. Our team of Phoenix car accident attorneys work diligently on each client case and are committed to helping secure maximum compensation. Some notable case results include:
$1,500,000 Settlement: Inattentive driver hit retired couple's vehicle. Wife suffered serious injuries. Multiple insurance carriers involved. Sargon Law Group secured maximum policy limit settlements.
$1,000,000 Settlement: Intoxicated motorist killed a woman on an electric scooter. Sargon Law Group fought for the family and won a maximum policy limit settlement.
$1,000,000 Settlement: Commercial truck failed to avoid vehicle at intersection. The car was totaled. Injured passenger required emergency surgery. Insurance denied coverage. Sargon Law Group fought back and secured a maximum policy limit settlement for the client.
$600,000 Settlement: Driver was hit on the freeway and suffered serious back and neck injuries. We recovered full policy limits from the insurance companies for our client.
How Does Partial Liability for a Car Accident Work in Arizona?
It is not uncommon for there to be more than one driver at fault for a vehicle accident in the Phoenix area. This can get complicated, particularly when trying to figure out who pays compensation. Under Arizona law, this is a "pure comparative negligence state." This means that individuals can recover compensation even if they are up to 99% responsible for causing a car crash. However, the total monetary value they receive in compensation will be lower if they share fault. This compensation will be reduced depending on the percentage of overall fault for the incident.
Will Your Phoenix Car Accident Case go to Court?
It is very unlikely that your car accident claim in Phoenix will end up in court, but that could happen. The reality is that most car accident claims are resolved through settlements with insurance companies in this state. This means that what typically occurs is you make an injury claim with your insurance carrier that will then, in turn, file a claim against the at-fault driver's insurance policy. There will usually be some back and forth until a settlement agreement is reached for injuries and property damage expenses. This can take a few weeks or a few months.
However, there are times when the other party's insurance carrier refuses to offer a fair settlement. When this happens, you may have to file a civil personal injury lawsuit against the at-fault driver in their insurance carrier. Even though this does enter the case into the civil court system, that does not necessarily mean you will have to go to court. There will usually be continued investigations while the case is ongoing, and the car accident claim will only go to a jury trial if both sides fail to reach an agreement after examining the evidence that comes in during the discovery process. If the case goes to a jury trial, it could take years before your claim is ultimately resolved.
Areas We Serve Across Phoenix, AZ
At Sargon Law Group, our Phoenix car accident attorneys are committed to providing legal representation for car accident victims in Phoenix, AZ and surrounding areas. Our team of attorneys handle a range of auto accident cases and serve clients in areas including:
Downtown Phoenix | North/Northwest Phoenix | South Phoenix | Story | Uptown | West Acres | West Phoenix | Alhambra | Alta Vista | Eastlake Park | Garfield | Good Samaritan | Grandview | Homeland | Los Olivos | Maryvale Village | Moon Valley | Arcadia | Central City | Central City South | Coronado | Willo | Woodlea
Contact a Phoenix Car Accident Lawyer at Sargon Law Group
When you or a family member suffers debilitating auto accident injuries in Phoenix, reach out to Sargon Law Group for experienced legal guidance; the best car accident lawyer Phoenix has to offer. As dedicated Arizona car accident attorneys, we have the necessary knowledge to seek favorable outcomes in your car accident claim. Our Phoenix personal injury attorneys at Sargon Law Group use a contingency fee basis, which means we collect only a percentage of the client's personal injury settlement with our services. Schedule your free consultation by calling (623) 225-5635 OR (623) 225-5635. You can also complete our convenient online form. The first step in seeking the compensation you deserve is a free case evaluation with a knowledgeable Phoenix car accident attorney from Sargon Law Group.
"Got into my first accident ever and I wasn't sure how to handle it and I didn't want the other parties insurance to screw me over. My chiropractors referred me to Sargon and he has been great with handling this all for me. I got my car fixed within a reasonable amount of time and made sure I was taken care of. If you ever get into an accident or in need of a good attorney Sargon is meant for you."
– Jendaya B.

"I was pregnant in an accident, not sure what to do… I called Mike at Sargon Law Group and he took care of EVERYTHING. He took so much stress off of me and helped us get full policy limit recovery for me and my baby to be. Best call I ever made! If you find yourself in need of an attorney call right away! Even from the scene of an accident!"

– Brooke H.