Sustaining injuries or property damage in an accident caused by another driver can be a terrifying experience, particularly if the at-fault driver flees the scene of the accident. At Sargon Law Group, our hit-and-run accident lawyers in Arizona have extensive experience handling complex injury claims in Glendale, Avondale, Surprise, and Phoenix. Our team can conduct a complete investigation into the incident and work diligently to recover full compensation for your losses.
Why Choose Sargon Law Group for a Hit-and-run Claim?
At Sargon Law Group, we pride ourselves in standing up for the rights of Arizonans as they work to secure compensation after an injury occurs.

We have recovered significant settlements and jury verdicts on behalf of our clients, and we have no problem taking a case to trial if necessary.

Our Arizona personal injury lawyers handle hit-and-run accident claims on a contingency fee basis, which means that our clients do not have to pay anything unless we successfully secure the compensation they need.
How an Arizona Hit-and-Run Attorney Can Help Your Case
Hit-and-run cases are complicated because individuals often do not know where to turn to recover compensation. When an Arizona hit-and-run lawyer gets involved, they can use their resources to fully investigate every aspect of the claim, explore the possibility of securing compensation through an insurance settlement, and handle filing a personal injury lawsuit against the negligent driver.
Additionally, an attorney can work with the individual's personal insurance carrier to recover any uninsured motorist coverage they may have as a part of their policy. Surprisingly, dealing with your own insurance carrier can be just as difficult as dealing with another person's insurance carrier. A lawyer can help you handle this as well.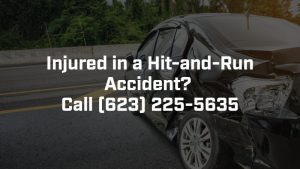 What Compensation Is Available After a Hit-and-Run Accident in Arizona?
There may be a few routes towards recovering compensation after a hit-and-run accident occurs. First, if law enforcement officials apprehend the at-fault driver and that driver has insurance, the goal is to pursue compensation from their insurance carrier.
If the driver is apprehended and they do not have insurance, it may be possible to recover compensation through a personal injury lawsuit against the at-fault driver. However, this can be challenging. Individuals who do not have insurance on their vehicle are likely not going to have the assets necessary to cover medical bills and property damage expenses.
Another route toward securing compensation could be your personal insurance carrier, particularly if you have uninsured motorist coverage. This is not a required coverage in Arizona, but we strongly recommend that all drivers carry this so that they are protected in the event a hit-and-run accident occurs.
Call a Hit-and-run Lawyer in Phoenix, Arizona Today
If you or somebody you love has sustained an injury or property damage in an accident caused by a driver who fled the scene, reach out to the team at Sargon Law Group as soon as possible. Our Phoenix car accident attorneys have extensive experience handling complex vehicle accident claims throughout Arizona, and we will use our resources to recover the compensation you are entitled to. Our Arizona hit-and-run accident lawyers are ready to help you in Glendale, Avondale, Surprise, and Phoenix, as well as in many other areas throughout the state. Contact us for a free consultation of your case or call our office at (623) 225-5635.