Accidents can happen at any time, whether you are in Mesa, Phoenix, Glendale, Chandler, or anywhere in the valley. If you have been in a car crash in Maricopa County, you deserve attorneys who understand what you're going through. The experienced personal injury lawyers at Sargon Law Group work to preserve your rights. Throughout your case, the skilled team at our personal injury law firm will work with you to ensure you secure compensation for injuries sustained due to someone else's negligence or intentional act. Call our legal team at (623) 225-5635 for a free consultation today.
Phoenix Personal Injury Resources
Why Choose the Sargon Law Group?
At Sargon Law Group, we have extensive experience handling complex injury claims in Phoenix and throughout Arizona. The attorneys at our law firm know what it's like to stand in a courtroom and talk to a jury about a client's story.

Our legal team focuses on providing a client-centered approach to every case that we take. This means that we will treat clients like family. Additionally, we will always be available to answer questions or concerns individuals have while their case is ongoing.

Sargon Law Group handles personal injury claims in Phoenix on a contingency fee basis, which means clients will not have to pay any legal fees until after we secure the compensation they are entitled to. If we do not win, our clients do not pay.
How Can A Phoenix Personal Injury Attorney Help?
Insurance companies have claims adjusters that begin evaluating your personal injury case quickly after the accident. They may contact you for a statement while you're still in the hospital and offer a settlement before you have a chance to understand the extent of your injuries fully. Insurance representatives are friendly and make it seem like they are on your side, but their goal is to pay as little as possible.
Claims adjusters may take your statement and make it appear that you are at fault for the accident or undervalue your claim. They can use your own words against you in court to minimize the amount the insurance company has to pay. It's important to talk to a personal injury attorney in Glendale, AZ before speaking with an insurance adjuster, either in person or on the phone, to ensure you are receiving fair compensation.
Insurance companies have teams of lawyers, ready to fight for them. By retaining an Arizona personal injury lawyer, you can level the playing field. Our attorneys have the resources to obtain Phoenix accident reports, video footage, and witness statements that can help your case. If your personal injury lawsuit goes to trial, they can utilize expert witnesses and gather additional evidence for your claim.
An experienced Phoenix personal injury lawyer has a thorough understanding of the law. Working with a skilled attorney can help prove who had responsibility for your accident and ensure your settlement can cover the repair or replacement of your car, the medical care you need, and compensation for lost wages.
What Types of Cases Do Our Phoenix Personal Injury Lawyers Handle?
Personal injury law allows accident victims to seek compensation for damages through a personal injury claim. Hiring civil attorneys experienced with your type of accident can help you obtain the maximum settlement for your injuries.
CAR ACCIDENTS
One of the most common types of personal injury cases in Phoenix, AZ, is car accidents that are often the result of human error. Car crashes could be due to speeding or distracted driving. Many auto accidents occur at intersections when drivers fail to stop at a red light or stop sign. This can result in a rear-end collision, T-bone crash, or head-on collision.
MOTORCYCLE ACCIDENTS
A beautiful day can become disastrous in the blink of an eye. Cars and trucks have frames, airbags, and other protective equipment that can help keep occupants safe. The lack of protection means the majority of motorcycle accidents result in severe injuries. Our Phoenix motorcycle accident lawyers know that even when the motorcyclist follows the road rules, many drivers look but don't see it coming, resulting in a collision.
BIG TRUCK ACCIDENTS
Tractor-trailer trucks can weigh up to 80,000 pounds when loaded. Stopping takes longer, and maneuvering is more challenging than a car in the best circumstances. Overloaded trucks, inexperienced drivers, and poorly maintained equipment are among the factors that may result in an accident with devastating consequences.
WRONGFUL DEATH
If a person loses a loved one due to the negligence or misconduct of others, there may be grounds for a wrongful death claim. This type of lawsuit seeks financial compensation for the family's losses, including lost wages, emotional pain, lost companionship, and funeral expenses.
PREMISES LIABILITY
Failure to keep the property safe for visitors often results in premises liability. When a person sustains injuries on a property owned by another, they may file a personal injury lawsuit for damages. Situations that may end in a compensation claim include:
Slip and fall accidents
Restaurant/Retail store liability
Negligent security or safety measures
Children on property
In situations that involve children, the property owner may owe a higher duty of care.
CATASTROPHIC INJURIES
Injuries that leave victims with permanent damage and prevent them from performing gainful work are typically considered catastrophic injuries. They often result in physical damage to the spinal cord or traumatic brain injuries, which may be debilitating and have a long-term impact on a person's functional capabilities. A settlement can help pay for medical expenses, ongoing medical care, medication, and devices necessary to enable the accident victim to function.
How Much Is My Personal Injury Case Worth in Phoenix?
There is no set amount of compensation paid to personal injury victims if their claim is successful. Without fully examining the facts of your case, we cannot give you a solid answer about how much your personal injury claim in Phoenix is worth. However, we can tell you some of the factors that will go into compensation amounts. This includes, but is not limited to, the following:
Injury severity

How long it takes to recover

Whether or not you were able to work while recovering

The amount of household assistance you need

Property damage expenses

Calculable pain and suffering damages

Whether or not there was any shared fault
When our personal injury attorneys in Phoenix are working to help clients calculate total expected losses, we will enlist assistance from medical, economic, and financial experts who can evaluate these factors. These individuals can provide testimony to insurance carriers or to a personal injury jury.
Types of Compensation Available in a Phoenix Personal Injury Claim
Personal injury victims in Phoenix and throughout Arizona may be entitled to various types of compensation if another individual causes their injury. We work diligently at Sargon Law Group to recover both economic and non-economic compensation on behalf of accident victims we help. This includes, but is not limited to, the following:
Total coverage of all medical bills, including emergency expenses as well as all follow up medical visits

Coverage of physical therapy, rehabilitation, prescription medications, and medical devices

Property damage expenses for anything destroyed in the incident

Lost wages if a person cannot work while they recover from their injuries

Physical and emotional pain and suffering damages

Loss of quality of life damages
When Can You Collect Damages in a Personal Injury Case?
We have discussed the types of damages that may be available for a personal injury claim in Phoenix, but injury victims need to know when they may be able to get compensation if their case is successful. Just like everything else related to a personal injury case, this is very specific to each particular situation. If an injury claim is resolved with insurance carriers relatively quickly, victims may be able to recover compensation within a few weeks or a few months after the incident occurs. Usually, this will come in a lump sum settlement check from the insurance carrier.
In the event a lawsuit does get filed in court, the case may move toward trial. If the claim gets settled before going to a jury, then it may only take a few weeks for the injury victim to receive a settlement check from the at-fault party or their insurance carrier. If the case does go to trial, the victim could recover compensation after a successful jury verdict, but this could be delayed if the defendant appeals the jury's decision.
Successful Case Results
Our team of injury lawyers in Phoenix have experience successfully recovering compensation for clients who have suffered from a serious injury or accident. At Sargon Law Group, our attorneys have knowledge and skills in handling a range of personal injury cases and are committed to helping each client seek maximum compensation. Some notable case results include:
$6,000,000 Settlement: Motorcyclist was cut off by a SUV. Serious injuries were caused and future care was required. Liability heavily disputed. We were able to show fault and get a large settlement for our client.
$1,500,000 Settlement: Inattentive driver hit retired couple's vehicle. Wife suffered serious injuries. Multiple insurance carriers involved. Sargon Law Group secured maximum policy limit settlements.
$1,000,000 Settlement: Pedestrian along a roadway was struck by a careless driver. The insurance company blamed the victim. Sargon Law Group was hired, secured expert opinions and won a policy limit settlement prior to taking the case to court.
$1,000,000 Settlement: This case arises from a premise liability accident. Client was at work and fell from the fence. Client sustained numerous injuries. Liability was heavily contested. We fought to obtain policy limits of $1 million.
What To Do After an Injury
After sustaining an injury, there are various steps that an accident victim needs to take. This includes:
Seeking medical care

. The most important aspect of a claim is ensuring you seek medical treatment as soon as possible. Any delay in medical care will give the insurance carrier a reason to scrutinize the claim more closely and ask about the delay. Additionally, it is important to continue medical treatment until given the all-clear by the doctor. 

Securing evidence

. There will be various types of evidence that should be gathered and kept secure. This includes any evidence gathered at the scene of the incident (videos, witness contact info, photos, articles of clothing, etc.). You should keep any medical records and medical bills associated with the injury and treatment. 

Calling an attorney

. A Phoenix personal injury lawyer should get involved as soon as possible so they can begin their investigation. Your lawyer is your advocate, and they will handle everything on your behalf, including the negotiations with insurance companies and at-fault parties. 
Determining Negligence in a Personal Injury Claim
Determining negligence after a personal injury in Phoenix can be difficult, which is why we strongly suggest that you seek legal assistance, at least an initial consultation. Negligence is a challenge to prove, even if the case seems cut and dry. A skilled lawyer will need to investigate the incident and work to recover as much evidence as possible. 
Importantly, an attorney will need to show that the defendant initially owed a duty of care to the plaintiff, meaning they had some sort of responsibility to act safely to prevent injuries. An experienced Phoenix personal injury lawyer will then need to show that the defendant breached the duty of care somehow, and this will look different depending on the type of injury claim at hand. The breach of duty is typically where it will be shown that the defendant was negligent. 
After showing that a breach of duty occurred, a lawyer will show how the breach caused the injury or injuries and that the plaintiff sustained some sort of monetary loss as a result.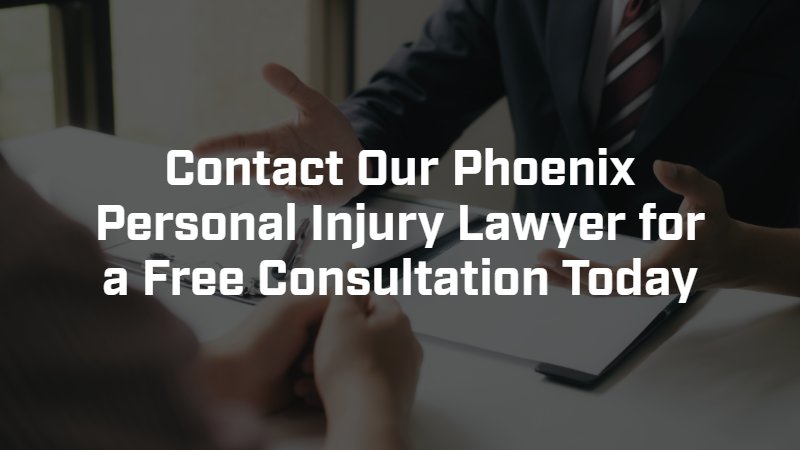 What Is the Burden of Proof in a Personal Injury Case?
The burden of proof for a civil personal injury case is lower than the burden of proof needed for a successful criminal prosecution. In a criminal court, a person's guilt must be proven beyond a reasonable doubt. However, in a civil case, a plaintiff can win if they can show that it is more likely than not the defendant caused the injury. This is called the preponderance of evidence standard. This is a lowered burden of proof than in criminal cases.
What if You're Partially Responsible for an Injury
One of the most common tactics used by insurance carriers and at-fault parties is to try and shift some or all of the blame onto the injury or property damage victim. They do this in order to limit how much money they have to pay out of their own pocket. However, shifting blame will only work if there is adequate proof to support this. 
Additionally, Arizona law operates under a "pure comparative negligence" system. This means that individuals can recover compensation even if they are up to 99% at fault for an incident. There will be an extensive investigation into each injury incident, and a person will receive reduced compensation based on their percentage of fault. For example, if a person is awarded $10,000 but is found to be 30% responsible for the incident because of their own negligence, they would receive 7,000 instead of the full $10,000.
Because of this shared fault law in Arizona, it is crucial for an injury victim to work with an attorney who can push back against any allegations of fault coming from the other parties involved.
How Long Do I Have to File a Personal Injury Claim in Phoenix, Arizona?
Arizona has a statute of limitations that may affect any claim you make after an accident. You must file a Phoenix personal injury lawsuit within two years of the accident date. However, if you have an injury that didn't present until long after the crash, the time may start on the date you discover the injury. As more time passes, weather can make evidence disappear, witnesses can forget details, and the cause of your injuries becomes harder to prove. The sooner you take action and file your personal injury lawsuit, the better the chance you have to reach an agreeable settlement.
Areas We Serve
At Sargon Law Group, our Phoenix personal injury lawyers provide legal representation for wrongly injured victims all across Phoenix, AZ and surrounding areas. Our team of attorneys are committed to serving clients with personal injury claims in areas including:
Downtown Phoenix | Eastlake Park | Garfield | Good Samaritan | Grandview | Homeland | Los Olivos | Maryvale Village | Moon Valley | North/Northwest Phoenix | South Phoenix | Story | Uptown | West Acres | West Phoenix | Alhambra | Alta Vista | Arcadia | Central City | Central City South | Coronado | Willo | Woodlea
What Are the Upfront Costs of Hiring a Personal Injury Lawyer?
There are many possible upfront costs that relate to a personal injury case, almost all of which will be taken on by the attorney when they work on a contingency fee basis. Some of these costs include the following:
Initial Consultation –

Most lawyers offer a free initial consultation to evaluate the case's merits and determine if they can represent the client on a contingency fee basis.

Investigation Expenses –

Lawyers may need to gather evidence, obtain medical records, hire investigators, or consult experts to build a strong case. These expenses are usually covered by the lawyer upfront.

Filing Fees –

Court filing fees, document processing fees, and other administrative expenses incurred during the litigation process are borne by the lawyer initially.

Expert Witness Fees –

If expert witnesses are necessary to support the case, their fees and expenses are typically advanced by the lawyer.

Deposition Costs –

Taking depositions of witnesses or parties involved in the case may involve expenses for transcripts and court reporters, which the lawyer will handle upfront.

Medical Records and Reports –

Obtaining medical records, reports, and other relevant documents related to the injury might incur costs that the lawyer will pay initially.

Travel Expenses –

If the case requires traveling to gather evidence, attend hearings, or meet with clients, the lawyer will cover these expenses upfront.

Trial Preparation –

Costs related to preparing for trial, including exhibits, visual aids, and trial consultants, are typically paid for by the lawyer in contingency fee arrangements.

Negotiation Costs –

Any expenses incurred during settlement negotiations or mediation will be covered by the lawyer.

Administrative Costs –

Miscellaneous costs such as photocopying, postage, and long-distance calls related to the case are handled by the lawyer upfront.
Contact Phoenix Personal Injury Attorneys at Sargon Law Group
The compassionate team of attorneys at Sargon Law Group is dedicated to achieving the best results for our clients. Our personal injury law firm has experience negotiating with insurance companies for the maximum settlement amount. If your case goes to trial, our Arizona personal injury lawyers will fight to protect your rights. Our law firm includes some of the top trial lawyers in the country, giving our clients confidence that we have their back. You focus on recovery, and we'll take care of the rest.
Contact us today to schedule a consultation.
"Had an amazing experience with Sargon Law Group. Specifically worked with Sargon. He was very patient with me and answered all my questions. Kept in touch with me through out the process and responded to my messages in a good amount of time. Highly recommend this Law Group. Thank you again!"

– Jessica J.

"Sargon was outstanding! Very professional and super responsive. Always took the time to go over every detail of the case thoroughly and guided me all along. Got me exactly what I deserved! Very pleased with his work. I highly recommend Sargon at Sargon Law Group if you have a personal injury case. As good as it gets. Thank you!"

– Andres A.