Spinal cord injuries often result in paralysis, and they can leave victims with long-term disabilities and major financial expenses. At Sargon Law Group, we are here to help if you need a Phoenix spinal cord injury attorney by your side. We know how to handle catastrophic injury claims. We will pursue compensation from insurance carriers, but we will not back down if a low settlement offer is made. Our team of spinal cord injury lawyers in Phoenix, AZ will take your case to trial to ensure you are treated fairly.
Why Choose Sargon Law Group for a Spinal Cord Injury Claim?
When an individual sustains a catastrophic spinal cord injury, they need assistance from a trusted legal team to help recover the compensation they deserve.
At Sargon Law Group, we have an

extensive track record of success

when it comes to recovering significant settlements and jury verdicts on behalf of injury victims in Phoenix and throughout Arizona. 

We firmly believe that every client deserves regular communication from their attorneys. Not only will we listen to your story, but you will always receive updates related to your case.

If you cannot come to our offices, our Phoenix personal injury attorneys will come to you. It does not matter whether you are in a hospital, a rehabilitation facility, or at your home. We want to make this as easy as possible for you.
Common Causes of Spinal Cord Injury
The National Spinal Cord Injury Statistical Center (NSCISC) collects comprehensive data regarding spinal cord injuries around the country each year. Information available shows that approximately 18,000 individuals sustained a spinal cord injury each year in the US. Over the last five years of data obtained from the center, the most common causes of these injuries include the following:
Vehicle accidents (this includes traditional vehicle accidents as well as pedestrian and bicycle accidents)

Various acts of violence (most commonly gunshot wounds)

Sports incidents
In many cases, spinal cord injuries occur due to the careless or negligent actions of other individuals or entities in the Phoenix area. Unfortunately, our Phoenix catastrophic injury lawyers have seen these spinal cord injuries often result in individuals sustaining lifelong disabilities that require permanent care.
What Compensation Is Available for a Spinal Cord Injury Claim?
There may be various types of compensation available to victims of spinal cord injuries in Phoenix. At Sargon Law Group, our team regularly assists clients in recovering both "special" and "general" damages.
Special damages are also referred to as economic damages, and these are the most common types of losses individuals think about when it comes to a spinal cord injury. Our team of experienced Phoenix spinal cord injury lawyers and the plaintiff will gather receipts, bills, and invoices that come in after the incident occurs that relate to the injury, the recovery process, and various other expenses that occur due to the incident. Some of the most common types of costs that we recover compensation for include the following:
Ambulance and emergency room expenses

Hospital stays

Follow-up doctor visits

Prescription medications and medical devices

Rehabilitation or physical therapy

Lost income for those who are unable to work

Loss of future earnings if there is a disability

Property damage expenses

Various out-of-pocket household and travel expenses
General damages are also referred to as non-economic damages after a spinal cord injury occurs. Some individuals may see these referred to as pain and suffering damages, and these are more immeasurable losses than individuals experience as a result of the incident and the recovery process. These damages, though equally as important, do not necessarily come with bills or receipts that can be added up. There are other methods that our attorneys will use to help adequately calculate a spinal cord injury victim's:
Physical pain and suffering and distress after the incident

Emotional and psychological pain and suffering

Loss of enjoyment of life

Loss of consortium for a spouse and family members
There is no total amount of compensation set for these claims. There are various factors that influence the total compensation victims receive, and a skilled spinal cord injury attorney in Phoenix, AZ will work with trusted economic and medical experts to ensure clients are treated fairly. 
What Is The Deadline for Filing a Spinal Injury Claim in Phoenix?
There are specific deadlines related to filing spinal cord injury claims in Arizona. The personal injury statute of limitations in this state applies, and the deadline is two years from the date an injury occurs. If a Phoenix spinal cord injury victim fails to file a lawsuit within this two-year timeframe, they will forfeit the right to recover any compensation for their losses.
Additionally, if there are insurance carriers involved in a spinal cord injury claim, they will also have their own reporting deadlines. Often, insurance carriers require claims to be made within a few days after the incident occurs, and any delay could harm the overall claim.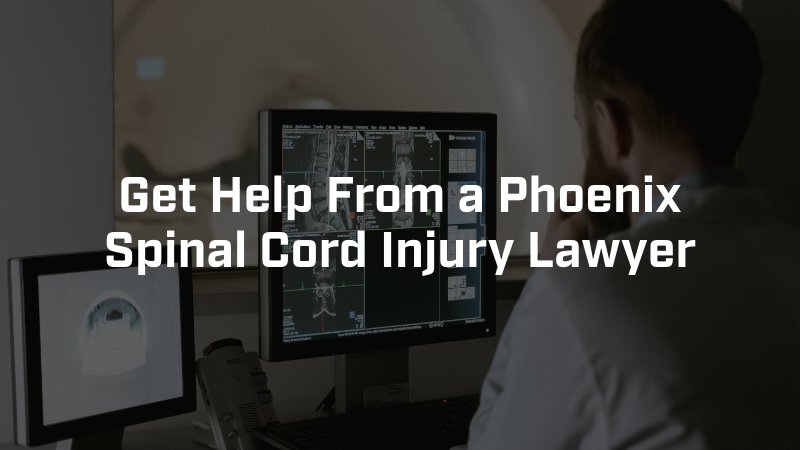 Affording a Spinal Cord Injury Lawyer in Phoenix
The Phoenix spinal cord injury lawyers at Sargon Law Group handle spinal cord injury cases in Phoenix on a contingency fee basis. Not only does this mean that the client will not be responsible for any out-of-pocket costs as their case is ongoing, but they will also pay no legal fees until after our team successfully recovers the compensation they need. In the event we do not win the case, clients pay nothing at all. The final legal fees will be an agreed-upon percentage of the total settlement or jury verdict awarded in the case.
Call a Phoenix, AZ Spinal Cord Injury Lawyer Today
If you or somebody you love has sustained a spinal cord injury caused by the negligence of another individual or entity in the Phoenix area, reach out to Sargon Law Group as soon as possible. We will not hesitate to investigate your claim, handle any negotiations necessary, or take your case to trial to recover the compensation you and your family need after a catastrophic injury claim. Our Phoenix spinal cord injury attorneys are standing by to help you today. You can contact us for a free consultation of your case online or calling our office at (623) 225-5635.