Spinal cord injuries can result in significant lifelong disabilities. Unfortunately, when a person sustains a catastrophic injury caused by the negligence of another party, they often struggle to recover the compensation they need. At Sargon Law Group, our goal is to make this process as easy as possible. Our Surprise, AZ, spinal cord injury attorney will fully investigate your claim, negotiate with every party involved to recover the compensation you need, and fully prepare to take your case to trial if necessary.
Why Turn to Sargon Law Group for Your Spinal Cord Injury Claim?
At Sargon Law Group, we have extensive experience handling negotiations with insurance carriers and litigation in the courtroom.

Our team understands the depth and severity of spinal cord injuries, which is why we fight to recover fair compensation for every client that we assist.

If you cannot make it to us as a result of your injury, we will come to you at your home, in the hospital, or at a rehab facility.
Spinal Cord Injury Injuries in Surprise, Arizona – How They Happen
Spinal cord injuries occur in a wide variety of ways in and around the Phoenix area. If we examine information presented by the National Spinal Cord Injury Statistical Center (NSCISC), we can see that, since 2015, the leading causes of spinal cord injuries include:
Vehicle accidents

Falls from varying heights

Acts of violence

Sports injuries

Surgical or medical mistakes
This is a fairly broad overview of how spinal cord injuries occur, but individuals in our area can experience these injuries in various locations. Our Surprise, AZ car accident lawyers have seen these injuries occur due to the negligent actions of other drivers. In other cases, spinal cord trauma occurs as a result of the careless or negligent actions of a property owner or some other party. 
What Are The Long-Term Effects of a Spinal Cord Injury?
Unfortunately, spinal cord injury victims often suffer from long-term disabilities. There are varying levels of spinal cord trauma that can occur. At the most basic level of classification, we have incomplete and complete spinal cord injuries.
Incomplete spinal cord injury

. With this level of spinal cord injury, the spinal cord is not completely severed. Individuals can experience some level of paralysis with an incomplete spinal cord injury, but they may experience no paralysis at all. Symptoms vary widely for incomplete spinal cord injury victims.

Complete spinal cord injury

. Incomplete spinal cord injuries occur when the spinal cord is severed. When a person experiences an incomplete spinal cord injury, they will have paralysis from the site of the injury downward. For example, quadriplegics typically experience an incomplete spinal cord injury in the neck area and are usually paralyzed from the neck down. However, a person who experiences a complete spinal cord injury on the lower spine may only become paraplegic, with the inability to use their lower limbs.
The long-term prognosis for a spinal cord injury victim in Phoenix revolves heavily around the initial injury as well as the recovery process. Unfortunately, according to the NSCISC, approximately 30% of every person with a spinal cord injury is rehospitalized one or more times during any year following the initial year after the injury.
What Compensation Is Available for a Spinal Cord Injury Case?
Spinal cord injury victims may be able to recover a wide range of types of compensation if their injury was caused by the negligent actions of another party. At Sargon Law Group, we work diligently to recover economic and non-economic losses for every client we assist. Our team of wrongful death attorneys in Surprise, Arizona have the experience and skill to help you recover the compensation you deserve after loosing a loved one or family member from a fatal spinal cord injury.
Economic damages are the calculable losses catastrophic injury victims are likely to endure as a result of the incident. We strive to recover compensation for a victim's medical expenses, lost wages, property damage expenses, in-home medical needs, coverage of vehicle or home modifications, travel expenses to medical facilities, and more.
Non-economic damages are the more immeasurable losses the spinal cord injury victims will endure. You will often hear these referred to as pain and suffering damages, but they are more than that. Compensation for non-economic losses is meant to provide some sort of closure and coverage for the physical pain and suffering a spinal cord injury victim endures as well as the emotional and psychological trauma they undergo. Additionally, non-economic losses can cover a loss of consortium for a spouse.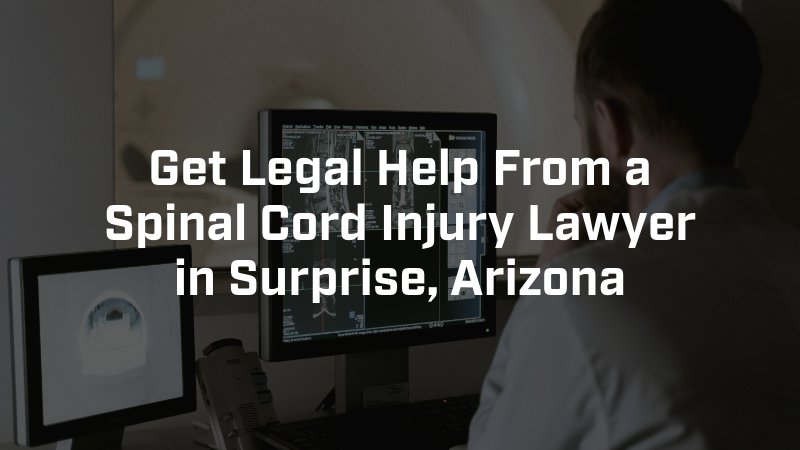 Do You Need a Lawyer for a Spinal Injury Claim in Surprise, AZ?
Spinal cord injury victims often struggle to go against other parties alleged to have caused their injuries. These other entities typically have deep pockets, and they will do what they can to limit how much money they payout. That is not acceptable for a spinal cord injury victim who has a lifelong battle ahead of them.
A spinal cord injury lawyer in the Phoenix area will use their resources to investigate the incident and handle every aspect of the claim for their client. This will include handling any negotiations with insurance carriers or legal teams in an effort to obtain a fair settlement. Preparing for a trial is a tough and lengthy process, but an attorney will have no problem getting ready to litigate the case on your behalf.
Most spinal cord injury lawyers will take these claims on a contingency fee basis. At Sargon Law Group, we are proud to handle all up-front and out-of-pocket costs for these cases, and spinal cord injury victims will pay no legal fees until after we successfully recover the compensation they need.
Call a Spinal Cord Injury Lawyer in Surprise, Arizona Today
If you or somebody you love has sustained a spinal cord injury caused by the negligent actions of another individual, company, or entity in the Surprise area, reach out to an attorney immediately. At Sargon Law Group, our team of Surprise personal injury lawyers can get to work investigating your claim and handling communication with other parties today. Let us use our resources to help you secure the compensation needed to get through this. This includes short-term compensation as well as long-term coverage of all of the expenses caused by this long-term injury. Reach out to our Surprise, AZ, spinal cord injury attorney through our contact page or call us at (623) 225-5635.